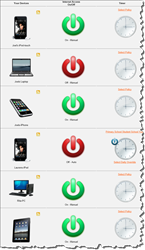 HIPOM leverages home automation technology to allow parents to take back control over the amount of time their kids are spending online. It does this by controlling the existing piece of hardware found in every modern internet home - the router.
Chicago, IL (PRWEB) May 09, 2013
HIPOM (Home Internet Peace Of Mind) is an innovative new startup using home automation technology to tackle the rapidly rising problem of tech addiction among children. The HIPOM website – http://www.myHIPOM.com – provides a 100% cloud-based service that enables parents to regain control over the amount of time their children spend on the internet. The free HIPOM service shows parents every connected device in their home and gives them the ability to individually turn their internet access on or off, in real-time over the web, like a virtual light switch. The service's unique home automation approach ensures that any device that connects to the internet through the common home access point can be easily controlled.
Unlike virtually every other parental control offering available today, HIPOM's service does not directly interact with the internet-enabled devices themselves (e.g., PCs, laptops, iPods, iPads, game consoles, IPTVs, mobile phones, etc.). Specifically, parents no longer need to be an IT Pro to implement effective internet parental controls in the home because HIPOM's pure web-based approach means there is no software to download, install, configure or administer on any of the devices to be managed. Instead, HIPOM delivers a 'home automation' solution to internet parental controls by managing the single common access point in the modern home that all internet-enabled devices connect through – the home internet router.
"When people hear the term 'home automation' they usually think of being able to remotely control the lights, the heating or cooling unit, the Personal Video Recorder (PVR), or other small appliances or sensors in the home," says Rod da Silva, HIPOM's founder. "However, HIPOM leverages home automation technology for a very different purpose – to allow parents to take back control over the amount of time their kids are spending online. It does this by controlling the existing piece of hardware found in every modern internet home – the router," he says.
After 4 years in development including a 2.5 year private trial period, HIPOM's web service publicly launched last month with support for over 100 consumer-based routers from today's most popular brand name manufacturers. This means HIPOM can immediately support the routers that millions of people worldwide already have in their home. Using the no cost home internet parental control service with its intuitive 'power button' metaphor is simply a matter of visiting the site, creating a free account, telling the service the make and model of your router, and then authorizing the service to manage the router on your behalf.
The growing sense of entitlement that children have around their home internet access is quickly becoming a major concern for this generation of parents, and HIPOM's novel cloud-based solution is resonating with parents tired of struggling with traditional device-centric parental control solutions. However, as compelling as this real-time solution is to parents, it's the possibility that the HIPOM technology may just be the break through "app" the stalled consumer M2M (Machine-to-Machine) industry has been waiting for, that has early investors really sitting up and taking notice.
"There are 3 things required before the long awaited promise of a 'connected home' full of smart devices can be fulfilled," says da Silva: "1) a physical, secure, means into the home network to access the devices, 2) a web-based user experience to manually control the devices, and 3) an internet-scale timer infrastructure to automatically control the devices. We have developed all 3 of these capabilities as part of delivering our HIPOM parental control solution," he says. da Silva plans to repackage those 3 capabilities into a generic Software-as-a-Service (SaaS), and offer them to the consumer-oriented hardware manufacturers busy producing the billions of devices that will fuel the home automation market.
The so-called Internet of Things (IoT) has been touted as "the next big thing" on the internet for a quite some time now but it hasn't yet materialized on any real scale, primarily because companies producing the "things" do not have an easy, inexpensive, standardized way to reach into the home networks of the masses to access them. "Home automation sensor manufacturers have a core competency in hardware not software, and we are betting they will be more than happy to keep it that way. We hope our platform for controlling consumer-based routers will help provide the means for these companies to securely access their devices within millions of existing home networks in order to 'light them up,'" says da Silva.
It will be interesting to see if this startup and its timely internet parental control application will give the world an unexpected glimpse of what the first, global, consumer-oriented IoT application might look like.
To learn more about HIPOM or try out its free service, visit https://www.myHIPOM.com.