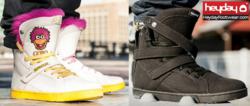 Heyday's Spring Collection runs the gamut from official licensed Fraggle Rock kicks to our first ever low top style, the JR. No matter which style you pick, you'll see why our tag line is "It's not hype, it's Heyday."
-CEO Darin Hager
Framingham, MA (PRWEB) May 13, 2013
The Spring 2013 Collection from the design driven and fashion sneaker brand, Heyday Footwear is now available for immediate shipping. Chief Everything Officer and Designer, Darin Hager pulled out all the stops this season with 5 new styles including the stealthy all black Super Shift Ninja sneaker, Heyday's first ever low top, The JR and the amazing Gobo Super Shift, the first style in an ongoing partnership with Jim Henson's Fraggle Rock which is celebrating it's 30th Anniversary.
About Heyday Footwear
Heyday Footwear is the design driven, direct to consumer lifestyle brand for the fresh, young and wired taste makers worldwide who share our passion to stand out from the crowd, whether on the street, in the board room or on the dance floor. Founded in 2006 by footwear industry veteran designer Darin Hager, Heyday continuously breaks new ground not only with its design driven footwear for men and women, but in the worlds of vertical e-commerce, product placement, licensing, entrepreneurship and brand building. Heyday is available ONLY from HeydayFootwear.com and not in stores.