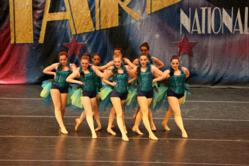 (PRWEB) May 11, 2013
Q-Dynamics received a Gold for Lyrical, a Gold for Jazz, and a High Score Award for Jazz at the Starbound National Dance Competition held from May 3rd to May 5th in East Brunswick, NJ. The High Score Award was a wonderful Jazz number choreographed by Dance Manager Leah Prutzman.
This achievement at the Starbound National Dance Competition comes on the heels of award winning performances at the OnStage NY Competition in April. There, the girls earned 1st Place Teen Primary – Jazz Category and 2nd Place Teen Primary – Overall Category honors. HealthQuest Dance Academy Director Maryanne Barraco, speaking to the team's first competition season, says, "I am very proud of the girls in their first season of competition and look forward to growing upon this season's success in the year to come."
Q-Dynamics' season culminates with the much anticipated HealthQuest Dance Recital on June 2nd at Hunterdon Central Regional High School in Flemington, NJ. Tickets are now on sale through the HealthQuest Program Desk for $10 per ticket. To purchase, please contact the Program Desk at (908)-782-4009 x233.