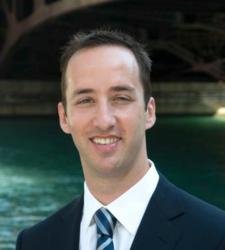 Mr. Passen, through his advocacy and bar association involvement, has asserted himself as a true leader in the Chicago legal community.
Chicago, IL (PRWEB) May 10, 2013
Matthew A. Passen, trial attorney with Passen Law Group, was recently elected to top leadership positions within two of the most important bar associations in Illinois: the Chicago Bar Association and the Chicago Bar Foundation. Specifically, Mr. Passen was elected Second Vice-Chair of the Chicago Bar Association's Young Lawyers Section (YLS) and Vice-President of the Chicago Bar Foundation's Young Professionals Board (YPB).
The Chicago Bar Association is one of the oldest and most active bar associations in the United States. The YLS, with over 9,000 members, is one of the nation's largest associations of young lawyers. The YLS implements over 50 public service and member service projects each year, and also offers numerous continuing legal education seminars and networking events. Mr. Passen will serve as Chair of the YLS in 2016.
The Chicago Bar Foundation's mission is to promote equal access to justice for all people in the Chicago metropolitan area. The YPB is a board of young attorneys and other professionals dedicated to achieving that mission -- through grants, fundraising events, projects and other leadership. Mr. Passen will serve as President of the YPB in 2015.
At Passen Law Group, Mr. Passen represents individuals and families in serious personal injury, medical malpractice and wrongful death cases. He has been named a "Rising Star" by Super Lawyers in 2013 and 2012, and recognized by Martindale-Hubbell as an AV® rated attorney, the highest such rating available to any individual lawyer.
Mr. Passen is committed to furthering the ideals of the legal profession through his work on behalf of the Chicago Bar Association and Chicago Bar Foundation. "I am honored to lead both of these great organizations and look forward to addressing some of the challenges facing our legal community and members of the public who require legal guidance," says Mr. Passen. His favorite pastime, however, is spending time with his wife, Carolyn, and two young children, Isabel and Cole.