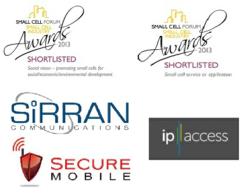 York, UK (PRWEB) May 10, 2013
SiRRAN and ip.access have again been recognized for their joint technology leadership in the small cells environment by being shortlisted in two key categories by the Small Cell Forum Cell Industry Awards which will be held at the Small Cells World Summit in London on June 5th. The shortlistings are based on SiRRAN extensive rollouts of GSM and 3G deployable networks for use by first responders, and disaster response and recovery teams.
Critically, SiRRAN's systems now allow experience and technology to be used in the deployment of new networks to socio-economically challenged areas that would normally be circumvented by the latest mobile technologies, but can now cost-effectively be included in any network rollout plan from the start.
The ongoing SiRRAN and ip.access collaboration also applies to next generation LTE networks with small networks working in conjunction with small cells adding more network flexibility and significant backhaul/OPEX reduction. SiRRAN Communications recently integrated their modular LTE EPC onto an Intel Core 2 Duo off-the-shelf single board computer achieving up to 60Mbps downlink throughput utilizing ip.access' 4G picocell, the LTE-245 eNodeB and commercial off the shelf LTE mobile handsets. The combined solution provides the industry's fastest, most robust and compact, fully integrated secure communications solution. The entirely standards-based LTE solution provides all of the features and functionality of the large OEM providers but in compact modular form. Each module of the SiRRAN EPC is individualized and scalable allowing for flexible deployment; making the SiRRAN and ip.access based solution the natural choice for both seamless MNO and MVNO solutions.
SiRRAN's Secure Mobile services are available for use in conjunction with SiRRAN's deployable and carrier small cell solutions, allowing networks to be rapidly implemented with fully encrypted communications and roaming back to public networks - all with SiRRAN and ip.access' proven industry leading pricing and technical performance.
About SiRRAN
SiRRAN is a unique telecommunications company in the development, manufacturing and deployment of secure and tactical cellular solutions, wireless unified communications infrastructure and innovative secure IP-based mobile voice and data applications; including the exclusive SecureMobile global encrypted service with patented "Always Secure Calling" hybrid technology. As a leading software provider, SiRRAN's secure voice communications products and software solutions are successfully deployed within commercial, military, first responder and government entities worldwide. http://www.sirran.com
About ip.access
ip.access is the leading small cell systems vendor and manufacturer; Delivering solutions around the world to tier-1 and tier-2 service providers both direct and via major partners. http://www.ipaccess.com
About Small Cells World Summit
Avren's Small Cells World Summit 2013, in exclusive partnership with the Small Cell Forum, is the largest small cells event in the telecoms industry. Hilton London Metropole Hotel, June 4th-6th 2013. http://www.smallcellsworldsummit.com/
About Small Cell Forum
The Small Cell Forum is a not-for-profit membership organisation which seeks to enable and promote small cell technology worldwide. http://www.smallcellforum.org/