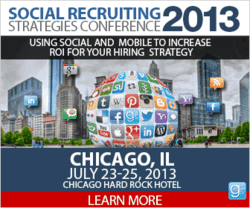 "Simply the Best Social Recruiting Conference in 2013" - Marvel Philip, Head of Recruitment-Healthcare Staffing, Alpha Vista Services
Chicago, IL (PRWEB) May 13, 2013
Social recruiting tools have transformed talent acquisition. Twitter, LinkedIn, Foursquare, and Facebook are go-to platforms that provide job seekers and employers the ability to connect. But there's more, so much more. Recruiters and employers can increase their qualified talent pool by implementing visual strategies.
Video and images have their own platforms - from Pinterest to YouTube - if you're not recruiting with these tools you're missing out. Belive it or not, using video saves you time and money. Once the initial investment is made, the time and cost will decrease with subsequent campaigns.
Through Pinterest boards, employee testimonials, "day in the life" scenarios, webisodes, postisodes and infographics – employers across the globe are able to share their employees' powerful stories and experiences through visual imagery as a recruitment and employer branding tool.
Kasey Sixt has been an innovative leader in the recruitment, retention and employee communications realm for the past twenty years. She has produced a multitude of award-winning multimedia recruitment campaigns, interactive projects, photo shoots and videos across a multitude of industries. She also worked in the trenches of the Hollywood/independent film industry and has worked on a multitude of short and feature film projects. Her understanding of the constantly changing social surfaces and hands-on knowledge of content curation has made her a sought-after producer, speaker and employer branding consultant.
Join us this July for the Social Recruiting Strategies Conference. #SRSC is a leading Social Recruiting Conference, with case studies. It gathers leading Employers, HR and Recruitment Industry professionals, to passionately discuss and practically demonstrate the impact of Social Media in Talent Acquisition Strategies and Employer Branding.
For more information or to register for #SRSC, please visit http://www.socialrecruitingstrategies.com Early bird discounts are available through May 10, 2013. Group discounts are available.
About Global Strategic Management Institute:
GSMI is a leader in the industry of executive education, creating conferences, summits, workshops and training sessions that combine rich learning environments with the opportunity to network with today's most relevant thought leaders, speakers and practitioners. GSMI's annual events have reached 70% of the Fortune 500 companies, in over 30 countries, covering topics that today's leaders find most challenging and inspiring. More information about Global Strategic Management Institute's upcoming educational events for professionals, visit: http://www.gsmiweb.com.