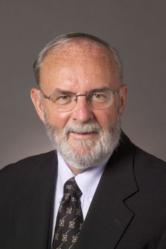 Every aspect of retail should be customer-focused—meaning interactive, educational, engaging, and personalized.
RALEIGH, NC (PRWEB) May 09, 2013
Jim Tompkins, CEO of Tompkins International and noted supply chain expert, will reveal how retailers can tackle roadblocks and ensure successful strategies at the 2013 National Retail Federation (NRF) Global Supply Chain Summit opening keynote on May 20.
"Retailers are at their biggest crossroads in history," notes Tompkins. "To survive, today's supply chains must be customer-centric, demand-driven, and adaptable."
Several tipping points have led to this critical crossroads, including online shopping, technology, and the Great Recession.
His keynote, Retail at a Crossroads, will offer insights on how to respond to the Amazon Effect and prepare for rapidly expanding e-commerce and multichannel markets. To be successful, businesses need to determine their operations strategy and capabilities and transform their supply chains to enable these effectively.
Tompkins says the future lies in achieving multichannel operations excellence. "Every aspect of retail should be customer-focused—meaning interactive, educational, engaging, and personalized," he explains. "It is time to move beyond the crossroads."
Click here to view the NRF Global Supply Chain Summit agenda. To read more about retail at a crossroads, download the paper "Retail at a Crossroads: Future Hangs in the Balance as Retail Industry Passes Tipping Points" by Tompkins International.
About Tompkins International
Tompkins International transforms supply chains to create value for all organizations. For more than 35 years, Tompkins has provided end-to-end solutions on a global scale, helping clients align business and supply chain strategies through operations planning, design and implementation. The company delivers leading-edge business and supply chain solutions by optimizing the Mega Processes of PLAN-BUY-MAKE-MOVE-STORE-SELL. Tompkins supports clients in achieving profitable growth in all areas of global supply chain and market growth strategy, organization, operations, process improvement, technology implementation, material handling integration, and benchmarking and best practices. Headquartered in Raleigh, NC, USA, Tompkins has offices throughout North America and in Europe and Asia. For more information, visit http://www.tompkinsinc.com.
CONTACT:
Keri McManus
(919) 855-5516
kmcmanus(at)tompkinsinc(dot)com
Videos from Tompkins International: tompkinsinc.com/videos/
Twitter: @jimtompkins
Creating Supply Chain Excellence Blog: tompkinsinc.com/category/blog/
Global Supply Chain Podcast: tompkinsinc.com/category/podcast/