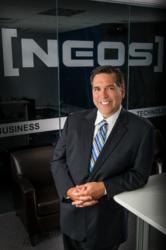 He's grown a two-person dream into a successful consulting firm.
(PRWEB) May 09, 2013
Ernst Renner, CEO and Managing Partner, NEOS, was named a Finalist today for Executive of the Year in the 2013 American Business Awards, and will ultimately be a Gold, Silver, or Bronze Stevie® Award winner in the program.
The American Business Awards are the nation's premier business awards program. All organizations operating in the U.S.A. are eligible to submit nominations – public and private, for-profit and non-profit, large and small.
The American Business Awards will be presented at two awards events: the ABA's traditional banquet on Monday, June 17 – in Chicago for the first time, after 10 years in New York; and the new product & technology awards event on Monday, September 16 in San Francisco.
More than 3,200 nominations from organizations of all sizes and in virtually every industry were submitted this year for consideration in a wide range of categories, including Most Innovative Company of the Year, Management Team of the Year, Best New Product or Service of the Year, Corporate Social Responsibility Program of the Year, and Executive of the Year, among others. Renner is nominated in the Executive of the Year category for Business Services.
Starting with a concentrated focus on business development, as well as dedicating special attention to people, Ernst led NEOS to do twice as much business in 2012 as the previous year, winning recognition from clients, partners and the industry. Ernst also expanded NEOS' brand concentrations to achieve a better client-mix and exceeded the target goal of new clients by 60% in 2012. His leadership and tenacity also guided the firm to realize a 70% growth in revenue from 2011 to 2012.
Rob Nocera, Chief Technology Officer and Partner, says "over the past 12 years, Ernst has worked tirelessly to grow NEOS into a holistic modernization firm offering solutions for business and IT transformations. He's grown a two-person dream into a successful consulting firm. I know I speak for everyone at NEOS when I say we are very proud of Ernst."
Finalists were chosen by more than 140 business professionals nationwide during preliminary judging in April and May. More than 150 members of nine specialized judging committees will determine Stevie Award placements from among the Finalists during final judging, to take place May 13 - 24.
Details about The American Business Awards and the list of Finalists in all categories are available at http://www.StevieAwards.com/ABA.
About NEOS
NEOS is a management consulting and technology services firm with unparalleled experience in holistic modernization, enterprise data and business operations consulting throughout the US, Europe, the Middle East and Asia. Clients range from large mid-cap companies to the Global 1000 segments including financial services, insurance and media. Services also include process, organizational and operational consulting, enterprise architecture strategies and design, reviews and planning, deployment and data analysis. NEOS is the parent company of Vgo Software that specializes in modernization analysis and conversions solutions.
For more information about NEOS, visit http://www.neosllc.com.
About the Stevie Awards
Stevie Awards are conferred in four programs: The American Business Awards, The International Business Awards, the Stevie Awards for Women in Business, and the Stevie Awards for Sales & Customer Service. A fifth program, the Asia-Pacific Stevie Awards, will debut this year. Honoring organizations of all types and sizes and the people behind them, the Stevies recognize outstanding performances in the workplace worldwide. Learn more about the Stevie Awards at http://www.StevieAwards.com.