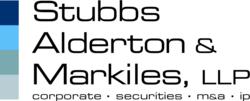 Los Angeles, CA (PRWEB) May 09, 2013
Stubbs Alderton & Markiles, LLP, Southern California's leading business law firm, has announced that nationally recognized attorney Anthony M. Keats has joined the firm as a partner in its Santa Monica office. Mr. Keats will co-chair the firm's newly-created Brand Development & Content Protection practice group and significantly expand the firm's already robust intellectual property and consumer brands practice. Also joining the firm as a partner and co-chair of the practice is Konrad Gatien, a seasoned attorney with an established trademark registration and enforcement practice; as well as associate, Stephen C. McArthur; and paralegal, Traci Escamilla.
During the course of his career, Anthony Keats has focused on both the business and the legal protection of brands arising from consumer products, luxury goods, and entertainment and Internet properties. Keats was the founding partner of Keats, McFarland and Wilson, a highly respected Beverly Hills-based intellectual property firm. Keats routinely has represented many of the world's largest consumer product, luxury goods and entertainment companies, as well as individual entrepreneurs, actors, and musicians.
His corporate clients have included, among others, Gucci, Michael Kors, Calvin Klein, Burberry, Seven for All Mankind, Kate Spade, Fendi, Frette, Versace, Balenciaga, New Line Cinema, Lucasfilm, Sony, Fox, Warner Bros., Paramount, Disney, Universal, Viacom, Comedy Central, Dreamworks SKG, Playtone, Amblin, Nike, Major League Baseball Properties, World Cup '94 Organizing Committee, Stanley Black and Decker, Energizer Battery, and Gillette.
"We are very excited to welcome Tony and Konrad," said managing partner, Scott Alderton. "Tony will facilitate the expansion of our Santa Monica office and he is one of the most well-regarded practitioners in registering, managing and protecting trademarks and brands. The addition of Tony and Konrad highly complements our existing intellectual property, consumer brands, entertainment and digital media practices. There is no intention to expand the firm's practice to general litigation, however, Tony and Konrad bring to us a content and brand registration, management and enforcement capability that is highly synergistic with our existing transactional practice."
The addition of the Brand Development & Content Protection practice group continues the firm's strategic expansion into Santa Monica, following the opening of that office in November 2012. The group will register and manage trademarks and trademark portfolios, oversee brand and content strategies, and undertake enforcement activities intended to protect client content and brands, including undertaking trademark litigation, online intellectual property infringement actions (such as copyright enforcement, on-line piracy, idea-submission matters, and fair-use claims), and other forms of intellectual property litigation, including rights of publicity and data privacy actions.
Keats stated, "I am energized by the ability to join my practice that has for decades undertaken to protect brand-holders and the creative community with a firm of engaged attorneys who are supporting the growth of digital technology and the Internet in southern California. This is the time for consumer brands and entertainment to establish and protect their intellectual property rights in this new space."
Tony Keats has spoken and written on brand and content protection on numerous occasions. He has appeared in the Wall Street Journal, Forbes, and the National Law Journal, among others, as well as appeared on various television broadcasts focused on IP protection. He is the co-author of the forthcoming treatise, "Brand Protection: Counterfeiting and Gray Markets" from Legal Journal Press.
Keats' practice will also include the mediation of litigated and non-litigated disputes, particularly in the area of intellectual property and commercial matters. He serves on the Attorney-Settlement Panel for the Federal District Court for The Central District of California, a mediator for The International Trademark Association Panel of Neutral Evaluators, and WIPO's Panel of Mediators for Film and Media.
Konrad Gatien will join the firm as a partner in its Los Angeles (Sherman Oaks) office. Gatien's practice encompasses all aspects of brand management from selection and adoption of brand names through prosecution, promotion, licensing and enforcement. He has significant experience in trademark prosecution worldwide, as well as running complex copyright and trademark litigation matters. His transactional work includes negotiating and drafting entertainment contracts and licensing and distribution agreements for world-famous characters, people and products.
Stephen C. McArthur will join the firm as an associate in its Santa Monica office. McArthur was formerly an associate of Cravath, Swaine & Moore LLP in New York City and Irell & Manella LLP in Los Angeles. Stephen's practice focuses on trademark prosecution and litigation, copyright litigation, patent litigation, general contractual commercial litigation, and licensing. He has represented clients across the technology spectrum, including those associated with the video game industry, telecommunications and wireless devices, and the music industry.
Traci Escamilla will join the firm as a paralegal in its Los Angeles (Sherman Oaks) office. Traci comes to Stubbs Alderton with over 17 years of experience as a trademark paralegal. Most recently, Traci managed large trademark portfolios at Fox Entertainment Group, and her law firm background provides her with extensive exposure and knowledge in all aspects of IP and brand management from clearance and prosecution, to enforcement and litigation.
Please visit http://www.stubbsalderton.com for complete attorney bios.
About the Stubbs Alderton & Markiles Brand Development & Content Protection Practice
The new Brand Development & Content Protection practice group will assist clients in evaluating and developing their commercial brands, registering copyrights and trademarks in the United States and worldwide, and in enforcing their copyrights, trademarks, and other intellectual property on and off of the Internet.
About Stubbs Alderton & Markiles, LLP
Stubbs Alderton & Markiles, LLP is a business law firm with robust corporate, public securities, mergers and acquisitions and intellectual property practice groups focusing on the representation of venture backed emerging growth companies, middle market public companies, large technology and Internet companies, entertainment, video games and digital media companies, investors, venture capital funds, investment bankers and underwriters. The firm's clients represent the full spectrum of Southern California business with a concentration in the technology, entertainment, video games, apparel, consumer electronics and medical device sectors. The firm's mission is to provide technically excellent legal services in a consistent, highly-responsive and service-oriented manner with an entrepreneurial and practical business perspective. These principles are the hallmarks of the firm. For more information, please visit http://www.stubbsalderton.com
Contact:
Heidi Hubbeling
Stubbs Alderton & Markiles, LLP
(818) 444-4526
hhubbeling(at)stubbsalderton(dot)com