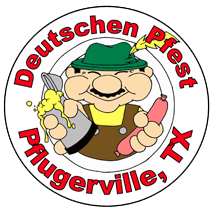 Austin, TX (PRWEB) May 10, 2013
The Grooves, an Austin-area dance band, will perform at this year's Deutschan Pfest in Pflugerville, Texas, on Friday, May 17th. This will be the 38th annual Deutschan Pfest, The Grooves explains, which features three days of live music, games and activities, and a parade.
The Grooves perform at corporate events, weddings, festivals and more. Having performed for the Miss U.S.A. Pageant, the American Red Cross, General Motors, Southwest Airlines, among many others, The Grooves is known for its eclectic combination of music from various decades and genres. The Austin-based dance band can go from classy and contemporary for more formal events to funky and fun for events that call for levity.
The Grooves' performance at Deutschan Pfest will begin at 8 p.m. on Friday evening, lasting until midnight. Gates open at 5 p.m., at which point attendees will be able to visit booths showcasing arts and crafts from local artisans and taste food from local food vendors. Local musician Lisa Marshall will open for the band, warming up crowds for The Grooves' unique blend of music, sure to get Austin residents dancing.
Since Deutschan Pfest is a family event, parents are invited to attend The Grooves' performance with children in tow. The band's performances are colorful and lively, often inciting entire crowds to dance the night away. Whether playing the best disco hits or the latest country song, The Grooves' music is always kid-friendly.
Admission to Deutschan Pfest is only $5 per person Friday evening, with children ages six and under admitted for free. The event is a celebration of Pflugerville's German heritage, Deutschan Pfest is always an entertaining time for families. Children's events include a petting farm, puppet shows, a pony ride, and more. On Saturday, Deutschan Pfest will offer a pool as a bonus for those attending the festival.
Contests are also a big part of Deutschan Pfest, with a T-shirt competition launched and completed prior to the event. A coloring contest keeps kids occupied, and a parade on Saturday morning is open to any child over the age of 12. Children decorate wagons and bicycles, with ribbons awarded to those who have the best decoration.
The Grooves encourages music fans to show up Friday evening between 8 p.m. and 12 a.m. for four hours of dancing and fun. Free parking is available at the Pflugerville High School and Brookhollow Elementary School, where they will be shuttled for free to Pfluger Park. On Friday, shuttles will run beginning at 4:30 p.m., with the last shuttle departing at 12:30 a.m.
For more information on Deutschan Pfest, visit the Pflugerville website. To learn more about The Grooves or book an event, call Ron at (512) 507-0589 or visit http://thegrooves.net/austin-bands.html. The Grooves plays events throughout the state, and can accommodate a variety of personal music tastes by playing music from its repertoire of more than 170 songs.