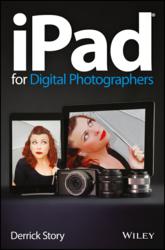 With iPad for Digital Photographers, readers will learn how to get the most out of the iPad to not only improve business but also enhance photography skills.
Indianapolis, IN (PRWEB) May 13, 2013
John Wiley and Sons, Inc., today announced the publication of iPad for Digital Photographers (Wiley, 978-1-118-49813-2, April 2013, US $24.99) written by professional photographer and business owner Derrick Story. Many photographers are turning to the flexible, easy-to-use tools of the iPad and relying on it to wear a variety of hats for photography and business needs. Whether portable portfolio, editing tool, payment-tracking system, or appointment calendar, the iPad melds together the best attributes of the cell phone and a laptop computer and this unique book highlights it all.
"The iPad is a terrific tool for photographers because it allows us to travel much lighter than carrying a laptop around," said Story, "Not only is the iPad good for quickly uploading photos and editing them, but also for helping us keep up with our day-to-day business needs through email access, invoicing and scheduling client appointments. It's fantastic for all the areas of business that we need on-hand, but hardly takes up any room in your photography bag."
With iPad for Digital Photographers, readers will learn how to get the most out of the iPad to not only improve business but also enhance photography skills. In this useful guide, author Derrick Story:

Details how to use your iPad to schedule client appointments, accept payments, sign model releases, track business expenses, and more
Teaches readers how to take advantage of the hi-res display, cellular and WiFi connectivity, and powerful processor to increase efficiency
Covers ways to use the iPad on location with on-the-fly editing techniques
Offers suggestions for using the iPad as a backup storage device and how to use it in the studio
Explains shooting movies with your iPad
iPad for Digital Photographers is now available for purchase online and at retailers nationwide in both print and all e-book formats. For a list of retailers, visit http://www.wiley.com/buy/9781118498132.
About Wiley
Wiley is a global provider of content-enabled solutions that improve outcomes in research, education, and professional practice. Wiley's Professional Development business creates products and services that help customers become more effective in the workplace and achieve career success. It brings to life the ideas and best practices of thought leaders in business, finance, accounting, workplace learning, management, leadership, technology, behavioral health, engineering/architecture, and education to serve these communities worldwide.
Founded in 1807, John Wiley & Sons, Inc. (NYSE: JWa, JWb), has been a valued source of information and understanding for more than 200 years, helping people around the world meet their needs and fulfill their aspirations. Wiley and its acquired companies have published the works of more than 450 Nobel laureates in all categories: Literature, Economics, Physiology or Medicine, Physics, Chemistry, and Peace. Wiley's global headquarters are located in Hoboken, New Jersey, with operations in the U.S., Europe, Asia, Canada, and Australia. The Company's website can be accessed at http://www.wiley.com.
###