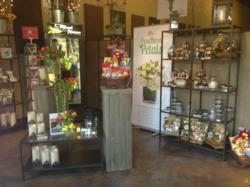 Atlanta, GA (PRWEB) May 10, 2013
Peachtree Petals, a recognized leading Atlanta florist specializing in premium floral arrangements and wedding floral services, announces $10 Pick-Up Discount for Mother's Day flowers. The announcement is in an effort to expand their online customer base, increase sales growth and to strategic promotions to market their flowers for Mother's Day. Peachtree Petals pursues to be the best choice in high-quality and custom-designed floral arrangements nationwide.
The $10 pick-up discount for Mother's Day flowers is being marketed on the home page of the Peachtree Petals website. Peachtree Petals will offer $10 off on all bouquets and gift orders that their customers pick up from the Peachtree Petals floral shop. When placing an order online, customers will select the option to pick up order located below the delivery date. The $10 discount will be credited to their debit or credit card upon pick up. Customers are also can select the pay at pick-up service method at checkout as well.
The $10 pick-up discount is excluded from all current pick-up specials. $10 off can be combined with other current sale-priced bouquets and gifts. Standard delivery time for floral bouquets to be designed is a 5-hour window time, however, pick up orders can be completed in a shorter timeframe. Due to Mother's Day, customers are also recommended to submit their pick-up orders at least one-day in advance to assure the order is ready upon pick up.
Peachtree Petals shows its commitment to its customers to provide the best pricing available in the Atlanta area with their $10 pick-up discount promotion. Peachtree Petals is one of Atlanta's newest florists, providing stunning floral arrangements to a wide variety of clients throughout the United States. This promotion is just one of many Mother's Day marketing initiatives, which will last until May 12th. The florist will be utilizing social media outlets for various Mother's Day promotions such as Facebook, Twitter and YouTube.
Peachtree Petals is a well-known leader of superior floral arrangements and a recognized Master Florist nationwide. For the best flowers for Mother's Day, Peachtree Petals is able to meet all of your floral needs. Based in Atlanta, Georgia, Peachtree Petals services a growing list of clients, including company floral subscriptions and weekly floral services. The company offers a simple approach to the floral industry, most notably, free same-day delivery of all their floral arrangements in the Atlanta and Metro-Atlanta area.