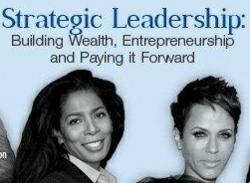 (PRWEB) May 10, 2013
The Ninth Annual Spelman College Leadership and Women of Color Conference has an exciting program of events to support this year's theme of Strategic Leadership: Building Wealth, Entrepreneurship and Paying it Forward. The two-day empowerment conference will be held at the Georgia International Convention Center, May 15 - 16, and is designed to dynamically engage attendees in a critical examination of business strategies that today's female leaders must employ in order to be truly successful.
The first day of the conference will feature pre-conference workshops on Spelman's Wellness Revolution and the Legacy of Leadership Awards Dinner, an elegant evening of memorable entertainment, outstanding speakers and inspiring stories of leadership. The Conference Closing is not to be missed, as it will feature an intimate and informative conversation about building wealth and paying it forward with Spelman College President Dr. Beverly Daniel Tatum and one of the country's most successful restaurant franchisees, President and CEO of V&J Holdings, Dr. Valerie Daniels-Carter.
PROGRAM HIGHLIGHTS:
Wed., May 15, 2013
The Wellness Revolution, 1:00 p.m.
In a modern exploration of holistic "wealth," Nicole Ari Parker teams up with Clinical Psychologist/Television Producer Dr. Brenda Wade to explore the direct impact of wellness on leadership and success.
The AJ Zone, 2:00 p.m.
Revealing keys to why sustaining healthy bodies supports a healthier career, Celebrity Life Stylist/Better Health Specialist/Actress and Spelman alumna AJ Johnson brings her high energy workout and wellness program to life.
Legacy of Leadership Awards Dinner, 6:00 p.m.
Host of the "Today's Black Woman Show" on Atlanta's KISS 104.1FM, Jennifer Keitt will emcee a special dinner honoring Nicole Ari Parker and Judy Smith.
Thurs. May 16, 2013
The Role of the Media in Wealth Building, 11 a.m.
Veteran media experts offer useful tips and an analysis of economic trends during "The Role of Media in Wealth Building." Allison Samuels (Newsweek), Sharon Epperson (CNBC), Author Gail Perry-Mason and George Curry (NNPA) will provide clear and effective financial strategies designed to increase attendees' personal and professional financial portfolios while discussing the media's role in wealth building.
CEO to CEO Chat, 4 p.m.
Spelman College President Dr. Beverly Tatum will have a candid conversation with President and CEO of V&J Holdings, Dr. Valerie Daniels-Carter about gaining wealth and paying it forward.
WHO:
Other key panelists include: Assistant Vice President & Group Director, Global Community Connections, The Coca-Cola Company and Executive Director, The Coca-Cola Foundation, Helen Smith Price; Dalila Wilson-Scott, Acting President JPMorgan Chase Foundation; Letty Ashworth, General Manager of Global Diversity Delta Air Lines; Singer/Songwriter/Pianist Avery Sunshine; Actress/Entrepreneur Nicole Ari Parker ("Vipaka"/"Soul Food"); and Judy Smith -- the real-life inspiration for ABC's hit series "Scandal".
WHEN:
Wednesday, May 15, 1:00 p.m. - Conference Opens
Thursday, May 16, 7:45 a.m. - Conference Day Two Begins
Thursday, May 16, 12:15 a.m. - Establishing Legacies
Lunch Thursday, May 16, 4:00 p.m. - Conference Closing Session
WHERE:
Georgia International Convention Center
2000 Convention Center Concourse
Atlanta, Georgia
###
About The 2013 Spelman Leadership And Women Of Color Conference
Convened by Spelman LEADS Executive Director Jane E. Smith, Ed.D., the Women of Color conference features expert speakers and participants from the fields of business, public policy, and education. Also among this year's speakers are thought and industry influencers such as: Alicia Diaz, director of Government Affairs and Legislative Policy; Cuban American National Council, Clinical Psychologist and Television Producer/ Host Dr. Brenda Wade; Jaqui Chew, founder of iFusion Marketing; Executive Director of Communications at Spelman College Tomika DePriest; Chief Executive Officer of Your SweetSpot Coaching and Consulting Dr. Kym A. Harris; General Managing Partner Julius Pryor, III of J. Pryor Group LLC; Founder,Sylvia Global Media Gael Sylvia; Founder, Egami Consulting Group,Teneshia Jackson Warner; Founder of THE AJ ZONE, AJ Johnson; and Spelman College student Lindsey Brown.
About Spelman College
Founded in 1881, Spelman College is a highly selective, liberal arts college widely recognized as the global leader in the education of women of African descent. Located in Atlanta, Ga., the college's picturesque campus is home to 2,100 students. Outstanding alumnae include Children's Defense Fund Founder Marian Wright Edelman; Sam's Club CEO Rosalind Brewer, Broadway producer Alia Jones, Former Acting Surgeon General and Spelman's first alumna President Audrey Forbes Manley, Harvard College Dean Evelynn Hammonds, Author Pearl Cleage and Actress LaTanya Richardson Jackson. For more information, visit http://www.spelman.edu.