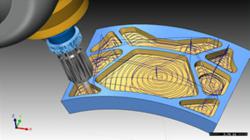 This is a perfect opportunity to meet manufacturers from all over and discuss the many great benefits of CAD/CAM implementation
Clearwater, Florida (PRWEB) May 11, 2013
CNC software developer BobCAD-CAM is set to demonstrate its latest CAD/CAM products at the upcoming EASTEC Manufacturing trade show May 14, 15 & 16th in Springfield, MA.
The Eastern States Exposition is held each year in Springfield to introduce products and services to the North American and International industries. This year BobCAD-CAM Software will be located at booth 5349 in building 5 where the company will offer product information and live demonstrations for their latest CAD/CAM products. New CNC software technology will include their advanced High Speed Adaptive Roughing machine strategy that is the first in the world for full 5 axis simultaneous milling, their PRO Level Machine Simulation and the latest in Multiaxis CAD/CAM Software. Their line of software includes CAD Design capabilities and solid modeling technology as well as 2 & 3 Axis Toolpath operations and complete G-Code posting capabilities that CNC businesses need in order to automate the machining process. "This is a perfect opportunity to meet manufacturers from all over and discuss the many great benefits of CAD/CAM implementation into their CNC machining processes," said Chris Corbell, the BobCAD-CAM marketing representative. The 3 day exhibition will also include a "student day" on Thursday, May16th when BobCAD-CAM will show their new educational program called, "Manufacturers of The Future." The new program supports schools and students with CAD/CAM software and associated training opportunities to provide the right educational solutions.
For more information on their CNC Software you can call BobCAD-CAM direct at 877-262-2231 or 727-442-3554. For a Free CAD/CAM software demo you can visit http://www.bobcad.com.