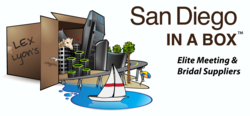 San Diego, CA (PRWEB) May 14, 2013
Lex Lyon, President of San Diego in a Box, announced that the boutique convention bureau will celebrate its first anniversary with a special event at The Ultimate Skybox in San Diego.
"I'm very excited with the response we've received from meeting and event planners across the country," says Lyon. "As more and more planners under the strategic meeting management (SMMP) guidelines feel the need to operate events themselves, they're using San Diego in a Box as a valuable resource. New visitors to the site increase monthly and to celebrate, we decided to throw ourselves a party!"
Invitations have been sent to the major suppliers in the San Diego event industry including the top destination management companies (DMC's) and the most respected bridal consultants. The party will be held on Monday May 20th at the Ultimate Skybox with it's incredible views of the city and the inside of Petco Park. The rock band Slower is a featured highlight.
Meeting planners accessing http://www.sandiegoinabox.com can easily discover Lyon's recommended coach companies, DMC's, florists, decorators, entertainment agencies, caterers, VIP transportation, meeting hotels and resources for CSR (Corporate Social Responsibility) programs. Information obtained on this unique site goes far beyond just finding names and addresses. Lex Lyon has 40 years in the hospitality industry and is a respected voice within the destination management field. He was a founding member and a past president of ADME (The Association of Destination Management Executives).
Also available on the site are links to IVI Destination Management, the largest and most renowned network of DMC's in Latin America. Lyon is a general sales agent for IVI Destination Management Services and can direct planners to experts for events in Argentina, Brazil, Chile, Costa Rica, The Dominican Republic, Panama, Guatemala and all the great resort cities of Mexico.