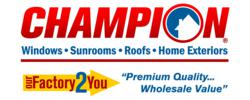 Champion has pioneered TimberBond™ technology, giving consumers the option of a gorgeous interior wood grain look with the same maintenance-free quality and durability of our vinyl replacement windows.
Cincinnati, OH (PRWEB) May 22, 2013
As the Home Remodeling Industry comes roaring back to life, homeowners are delighted to see window replacement options beyond traditional vinyl and wood. While the authentic look of wood has always been appreciated by home owners, the downside has been windows that often stick and suffer the problem of drafts.
Champion Windows, a Cincinnati based company and multiple year winner of the Consumers' Choice Award, has come up with a window that retains the warm luxurious look of wood for the home's interior but doesn't utilize the laminate or veneer finishes that have traditionally been the only non-wood options. Until recently, the technology was not very advanced and the process used either a laminate sticker or a thin wood veneer glued onto the vinyl. Neither had the maintenance-free lasting quality that is required by Champion. The wood laminate or veneer is susceptible to blistering, peeling, and delamination. Over time these finishes get damaged and look worn, features that don't provide a long-term design solution for homeowners.
In a first of its kind in the window industry a technological advancement allows a wood grain finish to be bonded to the vinyl. This first permanent vinyl window wood grain finish is only available at Champion.
Many common wood grain effects are done using contact paper which adheres to the vinyl like a sticker. Like the contact paper in your kitchen cabinets, a sticker is going to fail over time. Veneers give you the most authentic wood appearance but like veneer furniture, it can separate from the glued surface. It is also susceptible to scratches and chips.
The same technology that is used for wood finishes in the auto industry has been adapted for wood finishes on Champion's windows. This state-of-the-art high temperature and pressure transfer process bonds the wood grain finish to the vinyl.
Champion calls this window TimberBond™ and it comes with all the standard features and guarantees of Champion's original Comfort 365 Window® Timberbond™ is guaranteed not to blister, peel, delaminate or fade. And perhaps equally important it carries the "Proudly Designed, Developed and Manufactured in the U.S.A."
About The Consumers' Choice Award:
Established in 1987, the Consumers' Choice Award® identifies and promotes businesses that deliver customer service excellence. The Consumers' Choice Award® has retained a leading independent research firm to conduct surveys in U.S. cities; Columbus , Atlanta, Dallas, and Houston. The winners are determined by consumers and not by a panel of judges. The survey covers a broad range of categories of interest to both the public and business communities. Its purpose is to publicly identify those establishments that have been voted by consumers as being their choice for excellence. The Consumers' Choice Award® is a most prestigious tribute to local businesses that serve their communities well. The program is encouraged by all levels of government and by business leaders. Find out more about The Consumers' Choice Award by visiting http://www.consumerschoiceaward.com/