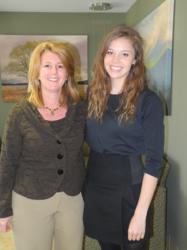 Auburn, Maine (PRWEB) May 14, 2013
Morgan Wilkins of Auburn recently completed an internship with Auburn based Provider Power, the parent company of Electricity Maine and ENH Power. She was supervised by Candace Sanborn, Vice President of Marketing and Will Fessenden, Director of Media Strategy. The internship provided Wilkins with credits towards her Bachelor of Arts degree in Social and Behavioral Sciences which she completed on May 11, 2013.
She is the daughter of Jim and Mary Wilkins of Auburn, and is a 2009 graduate of Edward Little High School.
Headquartered in Auburn, Maine, with offices in Portsmouth New Hampshire, ENH Power (http://www.enhpower.com) and Electricity Maine (http://www.electricityme.com) are licensed by their respective public utility commissions to sell electricity direct to homeowners and small businesses. ENH Power and Electricity Maine are not aggregators or brokers. These companies are licensed to sell supplier direct to consumers with no middle-man.
As part of the Provider Power family, their mission is to strengthen communities by providing competitive electricity rates on the supply portion of their utility bills while partnering with, and providing resources to, non-profit organizations that create positive change in Maine and New Hampshire.