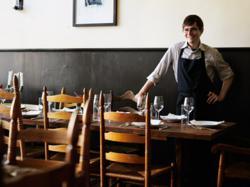 "Located in the hub of downtown Seattle, Aragona will be a culinary destination for both locals and tourists."
Seattle, Washington (PRWEB) May 13, 2013
Today, Chef/Owner Jason Stratton announces plans to open Aragona, a contemporary Spanish restaurant that will be located in the heart of downtown Seattle. Slated for a late summer or early fall opening, Aragona will be Stratton's third restaurant, and his first endeavor outside of the Capitol Hill neighborhood. Aragona will be a dining destination within walking distance to the Seattle waterfront and in the heart of the Pike Place Market and First Avenue corridor.
Just as Stratton's award-winning restaurants, Spinasse and Artusi are inspired by northern Italy; Aragona will serve simple but sophisticated versions of classic dishes from Spain utilizing the products of small, local farmers and local and imported artisans. Stratton's vision for Aragona's cuisine is influenced by the historical traditions of Aragon, matched with modern technique.
Similar to Stratton's Capitol Hill location, there will be two dining options. In addition to the Aragona dining room, the bar will provide a separate, casual menu designed to complement its distinct libations.
ABOUT THE RESTAURANTS OF JASON STRATTON:
Spinasse
Opened in August of 2008, Cascina Spinasse captivated local and national attention for its authentic incorporation of Piedmontese dishes, including handmade pastas and use of local and Italian ingredients. Spinasse, with 50 seats and 13 at the counter, is located at 1531 14th Avenue Seattle, Washington 98122. Spinasse.com (206) 251-7673. Follow them on Twitter @spinasse and on Facebook at Spinasse
Artusi
Opened in 2011, Artusi is located at 1535 14th Avenue in Seattle's Capitol Hill neighborhood. With seating for 50, the bar and restaurant is open from 5 pm to midnight Sunday- Thursday, from 5 p.m. to 1 a.m. on Friday and Saturday Artusibar.com- (206) 678-2516. Follow them on Twitter @Artusibar and on Facebook at Artusi.
# # #