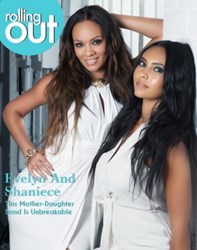 I enjoy her company a lot; she's my best friend.
Atlanta, GA (PRWEB) May 09, 2013
In this week's cover story, reality TV star Evelyn Lozada and her 19-year-old daughter, Shaniece, share an unbreakable bond that's a gentle reminder of the beauty of motherhood.
"I enjoy her company a lot; she's my best friend," offers Shaniece in an interview with DeWayne Rogers.
Evelyn adds, "I always made sure that she knew I was mom, but that she could also come to me and confide in me about anything. So yeah, we're besties."
More than 10 months after her marriage to NFL player Chad Johnson — which led to a well-documented domestic abuse incident, and subsequent divorce — Lozada now stands tall in a Los Angeles photo studio, while sharing laughs with the one person who continued to make sense — even as her charmed world came crashing down in the aftermath of a failed marriage.
Visit rollingout.com to read the interview in its entirety and get all the details about this Latino bombshell. Be sure to check out the exclusive photo shoot and video footage with celebrity photographer DeWayne Rogers.
About rolling out Magazine:
Rolling out, the nation's largest free urban weekly, is a digital and print magazine that focuses on the black experience in response to entertainment, politics, fashion, culture, sports and lifestyle points of interest. Headquartered in Atlanta, rolling out is positioned as the voice for the African American experience, using its newspaper as a platform in the marketplace to express urgency for education reform, and to document entrepreneurial endeavors and other relevant issues in the Diaspora. For information on rolling out, please log on to rollingout.com.