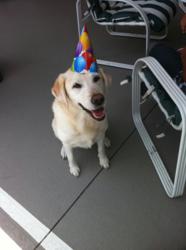 We gave out goodie bags full of wheat free dog treats from Pupolicious!
Quincy, IL (PRWEB) May 10, 2013
Whether someone is throwing a party for their fur-child, or giving out goodies to a friend for their little one's special day, plan to give out goodie bags full of healthy dog treats from Pupolicious that are baked in your kitchen with no unpronounceable ingredients for all of the happy dogs.
"When my lab turned 10, we went nuts. Her vet had just diagnosed her with copper storage disease, cirrhosis of the liver, hepatitis, end stage liver failure, cataracts and more. It's as if, all of a sudden, she had all the problems in the world," said Karin, loving dog owner. "They said 6 months to a year, and it is great and we are so happy, because she is still enjoying Pupolicious and being a totally happy and healthy little girl, with the help of 18 chewable pills hiding in her prescription food twice a day!"
She goes on to say, "Anyways, we gave out goodie bags full of wheat free dog treats from Pupolicious! I would suggest a birthday package where a dozen see-through plastic goodie bags are included, which are very inexpensive even with bone print added so dog parents can save money while handing out cute little party favors or impressing friends with their thoughtfulness."
The homemade dog biscuits, which are also gluten-free dog treats, come with dog bone cookie cutters that children love and two sizes of cookie cutters are available: one for small dogs and one for medium-sized and large dogs. Each bag of mix makes 25-50 treats. The homemade dog treats are baked in a conventional oven and are ready in just a few minutes. The video included shows how much fun a birthday party can be for your special puppy, making them a big part of the family.
Healthy dog treats by Pupolicious can be ordered online at pupolicious.com and shipped anywhere in the United States; they are also made in the U.S.A.
About Pupolicious
Pupolicious produces healthy dog treats that are made at home by pet owners, not in some unknown factory. New products include gluten free dog treats and wheat free dog treats. These homemade dog treats can be ordered online at pupolicious.com. Each package includes a bag of mix, a cookie cutter and easy-to-follow directions. Customers mix and bake the snacks at home and can decorate the bone-shaped treats with healthy colored icing.
For further information, visit pupolicious.com or call 217-214-7137.