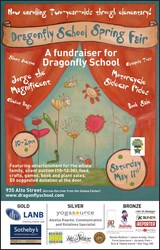 Santa Fe, NM (PRWEB) May 10, 2013
Dragonfly School in Santa Fe invites the community to their fifth annual Spring Fair on Saturday, May 11 from 10-2 on their campus at 935 Alto Street. This is a great community event with fun filled activities for all ages.
This fundraising event will have games and prizes for the kids; including a catapult toss, arts and crafts, motorcycle sidecar rides, and the ever-popular Chicken Bingo-which you need to see to believe! There will also be a plant sale, book sale, and a toy sale.
Live entertainment will include a breakdancing troupe, drumming circles, Jorge the Magnificent and Berimbau capoeira.
Dragonfly will also hold a silent auction with restaurant, fitness and retail gift certificates, art, furniture and more! Bring your appetite and enjoy Pizza Centro pizza and delicious treats from Dragonfly parents.
Dragonfly School is built around a science and nature-based curriculum, with a focus on community, creativity and ecology. We provide a hands-on, inclusive learning environment for children preschool through sixth grade., beginning at age three.
The 1.5 acre campus is located on the Santa Fe River within a mile of the plaza and the railyard, including vegetable and flower gardens, an outdoor stage and large outdoor play and work areas, as well as adobe buildings with natural light. Dragonfly School is a non-profit and depends on donations to keep its doors open. There is a $5 suggested donation for this event.