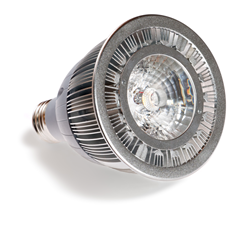 Our goal was to raise awareness of LED lamps in the local business community, particularly to environmentally-responsible retailers who care about quality of light
Ottawa, Ontario (PRWEB) May 09, 2013
Leapfrog Lighting announced today the award of $1000 in retrofit Leapfrog Lighting LED lamps to Tanda Shoes. The contest was designed to raise awareness of the importance of LED lamp retrofits for socially responsible businesses. The contest ran last month on the Leapfrog Lighting Facebook page, drawing enthusiastic response from businesses.
"Our goal was to raise awareness of LED lamps in the local business community, particularly to environmentally responsible retailers who care about quality of light," said Sarah Bailey of Leapfrog Lighting. "LED lighting is becoming mainstream, but many businesses haven't yet made the switch." LED lamps, she explained, can use as little as ten percent of the energy used by older technologies. LED lamps are also environmentally-friendly due to a lower greenhouse gas footprint and unlike halogens, do not contain hazardous materials such as mercury.
Tom Bass, owner of Tanda Shoes, committed to a lighting makeover from Leapfrog Lighting. He originally entered the Upgrade Your Light contest because "we are currently using Halogen Par38s in the store and would like to use less electricity—which is our social responsibility." He said the over-riding consideration in choosing a retrofit LED lamp was quality. "Our goal is to present our products in the best light possible" and because "we wanted to support local innovation." Leapfrog Lighting recently received research funding from the Canadian Federal Government to help fund ongoing innovation.
Leapfrog Lighting conducted testing of one of the lamps currently used at Tanda Shoes in their lab. The exiting installation tested at 2400K, making the light quite yellow. This is not an appealing spectrum of color for retail displays.
Leapfrog Lighting will replace the retailer's lighting with Leapfrog Lighting Energy Star PAR30s , providing the ideal retail display color. Because of the optical superiority of Leapfrog's bulbs, Tanda will not require as many lamps, saving even more energy, and will qualify for Energy Star rebates. The first $1000 of the retrofit will be awarded as the prize in the Facebook contest.
The socially responsible proposition for LED lamps versus other lamp technologies is compelling, with a lower greenhouse gas footprint overall, less environmental contamination, fewer disposals and landfill issues due to long life of lamps, and lower energy consumption. In Ontario, it was estimated that various initiatives—including adoption of LED lamps and other conservation technologies—contributed to a drop in carbon emissions of 15% since 2009, despite population growth, according to the Sustainable Cities Collective.
As compared to other lamp technologies, the economic proposition is equally persuasive. With hydro rates rising in many jurisdictions—in Ontario, another 6.349 percent increase as of April 6—LED lamps lower electricity consumption is the most obvious argument for retrofit. Less obvious are the savings created by fewer lamp replacements and air conditioning costs due to the absence of heat emitted by LEDs. Other benefits include no personal exposure to hazardous material such mercury, no ultraviolet (UV) or infrared (IR) to degrade carpet, fabric, and artwork, and less risk of breakage, since LEDs are more durable.
Leapfrog Lighting's LED bulbs, best known for optical clarity and quality, come with a life expectancy of 40,000 operating hours and a five-year warranty. The Leapfrog Lighting bulbs are also dimmable, an important consideration for display lighting, and come in a variety of color temperatures and beam angles. The light distribution, clarity and color of the lights are specification-grade.
Leapfrog Lighting's PAR30 LED lamp provides industry-leading output power and efficacy, thanks to high-efficiency, high-reliability LED source and driver electronics. The lamp's innovative lens design creates a pleasing, glare-free light suitable for use in all indoor and unexposed outdoor down-lighting applications. The lamp also delivers the high CRI and ultra-consistent color temperature control critical to multi-lamp applications in hotels, restaurants, schools, office buildings, casinos, retail operations and other public spaces. With a life expectancy of 40,000 operating hours, this UL-registered lamp will provide more than 27 years of service at four hours per day.
Leapfrog Lighting is committed to future contests and promotions to raise awareness of the social, economic and environmental benefits of LED Lamp retrofits for business. These contests and promotions will be announced in the Leapfrog Lighting newsletter, which is free to subscribe.
Tanda Shoes has been providing high quality, therapeutic and beautiful footwear to its customers for over five years now. With several well-known brand names such as: Birkenstock, Blundstone, Clarks, Crocs, Ecco, Finn Comfort, and Merrell to name a few, Tanda Shoes works very hard to find the right shoe for you. With our friendly, knowledgeable staff, Tanda Shoes has two excellent locations, and we are committed in serving our customers.