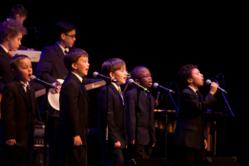 The Boys' Club of New York offers affordable music lessons to boys from six to 20.
New York, New York (PRWEB) May 14, 2013
The Boys' Club of New York (BCNY), the city's oldest organization focused solely on preparing boys and young men to achieve their full potential, is excited to announce that the BCNY student musicians will be performing their annual concert on Wednesday, June 5th, at El Museo del Barrio at 6:30pm.
The 2013 concert will feature pieces from all different genres, including works by Billy Joel, Prince, Jason Mraz, Coldplay, Bruno Mars, Maroon 5, Michael Bublé, Jimi Hendrix, and The Rolling Stones, plus a special rendition of "Some Nights" by FUN. All proceeds go directly to support BCNY's programming.
This concert marks the first time BCNY's musicians have performed at El Museo del Barrio. El Museo, located near BCNY's East Harlem Clubhouse, is considered one of New York's leading Latino cultural institutions. Nearly half of BCNY's members identify as Latino or Hispanic, which makes performing at El Museo particularly significant.
This year's band is made up of approximately 40 members from all three clubhouses, led by BCNY's Director of Music Education, Malcolm Swisher. Band members have been studying with accomplished music teachers through BCNY's Josie Robertson School of Music and Art, a program offered at each clubhouse.
BCNY's music program began in 1998 at the Elbridge T. Gerry, Jr. Clubhouse (then known as the Jefferson Park Clubhouse) in East Harlem. It was so successful—and so popular—that the program was soon replicated in the other clubhouses, first at the Lower East Side's Harriman Clubhouse in 2008 and the following year at the Marion McMahon Abbe Clubhouse in Flushing, Queens. Today, the music program offers lessons in piano, percussion, drums, saxophone, clarinet, bass and guitar, ukulele and mandolin, vibes, violin, voice, and chorus, focusing not just on technical skills but also on music appreciation.
The very first BCNY Music Concert was spontaneously staged on the roof of the Gerry Clubhouse in 1999. After two years of rooftop concerts, the performances were moved to the auditorium, where more guests could be accommodated. Soon enough, Gerry's auditorium proved too small, and the concerts had to relocate to outside venues. For three years, the concert was performed at the historic Apollo Theater in Harlem, followed by two years at Lincoln Center, one performance at Juilliard, and two years at Symphony Space.
About The Boys' Club of New York
The Boys' Club of New York is committed to nurturing, mentoring, and guiding boys and young men to prepare them to reach their fullest potential.
Throughout its 137-year history of youth development, The Boys' Club of New York has combined a single-minded focus on boys and young men with a unique, multi-disciplinary approach that prepares them for a fulfilling and meaningful adulthood. The Boys' Club of New York accomplishes this through an approach that includes music and arts programs, social and recreational activities, academic support and athletics.
By introducing boys to new ideas, expanding their interests, developing their hobbies, providing a safe and nurturing environment and offering ongoing counseling and mentorship, The Boys' Club of New York helps shape boys and young men into the best adults they can be.