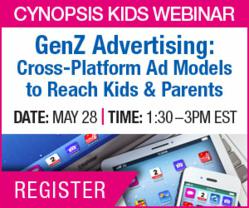 New York, NY (PRWEB) May 10, 2013
Disney, Starcom, Blueplate Media and Pivotal Research Group will present in the upcoming webinar, "GenZ Advertising: Cross-Platform Ad Models to Reach Kids & Parents," on May 28 hosted by Cynopsis: Kids! editor Cathy Applefeld Olson. Whether you're in programming sales or ad sales, or are creating transmedia content, Cynopsis Kids and our panel of industry leaders will help you step up your game.
Kara Rousseau (SVP Ad Sales and Marketing at Disney Media Sales & Marketing), Darcy Bowe (Director at Starcom USA), David Becker (President at Blueplate Media) and Brian Wieser (Analyst at Pivotal Research Group LLC), will share best strategies for maximizing ad sales and sponsorship across platforms, and best practices for working with kids content creators to tout your brand.
During this information-packed 90-minute webinar, attendees will learn how to:

Create cross-platform content that maximizes advertising and revenue opportunities on TV, online and via mobile apps
Effectively tout your multi-screen program offerings to brand and agency executives
Develop an integrated ad campaign for content currently in development
Parlay physical events like premieres, meet-and-greets and theme park attractions into advertising gold
Build brand awareness for both advertiser and content company by fostering social media ambassadors
This highly interactive seminar will allow for real-time Q&As to ensure your specific questions are answered.
To register for Cynopsis Kids' "GenZ Advertising: Cross-Platform Ad Models to Reach Kids & Parents" webinar, visit: http://www.cynopsis.com/webinars/genz-advertising.
Webinar attendees receive full access to speaker presentations along with a certificate of completion. Webinar tuition is based on location, not number of participants, so each registration site can have multiple participants for one low price. Questions? Contact Trish Pihonak at trish(at)cynopsis(dot)com.
About Cynopsis Media
Cynopsis Media is a division of Access Intelligence LLC. The Cynopsis Media family of products includes Cynopsis, Cynopsis: Digital, Cynopsis: Kids and Cynopsis: Sports daily e-publications, weekly Cynopsis: Classified Advantage e-publication, Special eReports, Event/Summits and a strong database of Classifieds and more. Visit cynopsis.com.
###