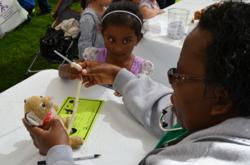 Loma Linda, CA (PRWEB) May 10, 2013
About 1,700 children and grown-ups from throughout the Inland Empire took part in the 28th annual Children's Day at Loma Linda University Children's Hospital on Wednesday, May 8.
Children's Day, sponsored by Farmer Boys, was held at the Campus Mall and presented fun and educational activities and demonstrations for children, including lessons on first aid and fire safety, dental health, nutrition, and "Doc for a Day" with resident physicians from Children's Hospital.
"This is an event that has grown in numbers and community support every year," says Dorothy Brooks, community education specialist at Loma Linda University Children's Hospital Child Life Services and the event's coordinator. "We're very pleased to bring a smile to the children's faces and make this day all about them."
In the photo, Anna Victor, 4, (left) of Riverside, gets help from student volunteer Stembile Madakiwe in taking the temperature of "Tigy" at the "Teddy Bear Clinic." The "Teddy Bear Clinic" and other activities during Children's Day were held to introduce children to the importance of health and safety and help ease their fears of a hospital visit.
# # #
About Loma Linda University Children's Hospital
Loma Linda University Children's Hospital is the only dedicated pediatric hospital in the vast geographic region of San Bernardino, Riverside, Inyo and Mono counties. With 348 beds dedicated just for kids, one of the largest Neonatal Intensive Care Units (NICU) in the country, and more than 100,000 children who come each year, LLUCH is a major pediatric teaching facility, known worldwide as the pioneer of neonatal heart transplantation. LLUCH is part of Loma Linda University Health (LLUH), the umbrella organization encompassing Loma Linda University's eight professional schools, Loma Linda University Medical Center's six hospitals, and more than 900 faculty physicians located across the Inland Empire in Southern California. A Seventh-day Adventist organization, LLUH is a faith-based health system with a mission "to continue the teaching and healing ministry of Jesus Christ."