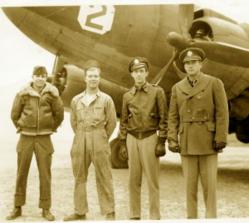 "...I once found his old Army trunk that was locked and gathering dust. My grandfather said it contained photos and mementos he'd brought back from the war, but he wouldn't open it. The memories were just too painful." - Brian Moreland, Samhain author
Cincinnati, OH (PRWEB) May 23, 2013
One of the most popular new voices in horror at SamhainPublishing®, Brian Moreland, has drawn unique inspiration for his recent novel, Shadows in the Mist—an inspiration that is particularly timely at Memorial Day. Moreland's novel features a key character based on Moreland's 95-year old grandfather, Captain Dawson Moreland, a military hero of World War II.
"When he was a soldier, my grandfather stood six-two," Moreland explains. "He was strong and tough, with a husky laugh. He never talked about the war, but when I was a kid, I once found his old Army trunk that was locked and gathering dust. My grandfather said it contained photos and mementos he'd brought back from the war, but he wouldn't open it. The memories were just too painful." Moreland couldn't let the image go. "Shadows in the Mist opens with a few scenes in present day, when Colonel Jack Chambers is visited by his grandson, Sean. Like me, Sean is curious to know his grandfather's secrets."
What Sean finds is something quite different than Captain Dawson Moreland's own experiences, but those were harrowing enough. Moreland still lives near his grandfather in Texas, and the two recently signed Moreland's books in a joint booksigning event. You can read the complete story at http://www.samhainpublishing.com/2013/04/wwii-hero-inspires-novel/.
In addition to Shadows in the Mist, Moreland has also published Dead of Winter with Samhain Publishing. His newest novel, The Witching House, comes out in August, 2013. Readers can get a sneak peak of the horrifying world of The Witching House in an exclusive free short story, "The Girl from the Blood Coven", available at http://store.samhainpublishing.com/girl-from-blood-coven-p-72931.html.
To learn more about this title and all Samhain Horror books, and to order books at a special discounted rate, visit the publisher online at http://www.samhainhorror.com.
About Samhain Publishing
Launched in 2005 with a vision of bringing extraordinary fiction to compulsive readers, Samhain Publishing® is an international publisher of ebook and traditional print fiction. One of the most prominent voices of original ebook novels, novellas and short stories, Samhain represents some of today's brightest authors of horror and romance fiction. To learn why at Samhain "it's all about the story…" visit Samhain Publishing online at http://www.samhainpublishing.com.