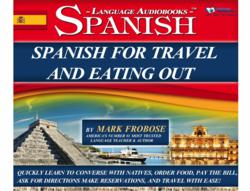 We have created a fast and easy way to speak the practical basics of any language for traveling and eating out. - Mark Frobose, LanguageAudiobooks.com
Champaign, IL (PRWEB) May 11, 2013
Many Americans go to Mexican, French or Italian restaurants and can't understand the menu, are unable to order a meal, and even struggle when asking where the bathroom is.
"Help is on the way," says Mark Frobose of Language Audiobooks Inc. "Our new travel and eating out language series takes the pain out of traveling to foreign countries and eating out in Spanish, French, and Italian speaking restaurants."
Why does it matter whether or not you speak the language of the host country or host restaurant?
"It matters a great deal if you are the traveler in need of information, directions, or assistance and can't get your message across to the natives," states Mark Frobose, bestselling author of Spanish for Travel and Eating Out.
And how about some advice for those timid souls who don't dare utter a word in a foreign tongue lest they be ridiculed or misunderstood?
"My advice for the faint of heart is to realize that you're going to suffer one of two pains when it comes to languages," declares Mark, who also created French for Travel and Eating Out.
"The first is the pain of learning to speak the basics of the language you need, and the second is the pain of not learning to speak the basics of the language you need."
Mark goes on to warn his followers that "The pain of learning a language weighs ounces but the pain of not learning one weighs tons."
So where does the audio program for travelers and restaurant goers come in?
"I designed the travel and going out programs to specifically reduce the pain and inconvenience of learning to speak a second language by making the lessons versatile, short, fun, and effective," says Frobose.
"That way you learn to speak a language while you're waiting in traffic, waiting for a red light, waiting on your friends, or simply hanging out with nothing to do."
Mark Frobose is the nation's most respected and trusted language teacher and author.
He has created well over 70 foreign language programs and even masterminded the entire foreign language program line for publishing giant Macmillan Audio of New York.
Mark is frequently interviewed as a guest language expert on major media programs and has appeared on Good Day New York, The Leslie Marshall Show, The Dennis Miller Show and he was just interviewed as a language expert on WGN Radio in Chicago.
Mark's website at http://www.languageaudiobooks.com offers no-cost language lessons and even a no-cost eBook to visitors in addition to selling language programs of all sizes and shapes.