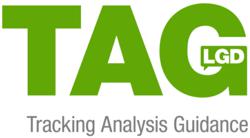 Miami, Fl (PRWEB) May 09, 2013
TAG – Targeting. Analysis. Guidance – reshapes the unknown areas of media buying and marketing strategy to pull back the curtain on what initiatives provide maximum ROI
MIAMI – (May 06, 2013) – TAG by LGD, a media strategy tool perfected for the leading Miami-based advertising agency's residential real estate clients over the past three years, was born when times got tough for South Florida real estate developers.
"In 2010 our clients were pressed to sell a larger percentage of existing residences within a very short period of time. There was very little margin of error for marketing initiatives. 'Guesswork' just wasn't going to cut it," says agency President and Chief Creative Officer Len Dugow.
TAG, or Tracking, Analysis & Guidance, allows the agency and its clients to direct media dollars–across all platforms– based on real-time performance tracking. Magazine advertisements, billboards, social media, web banners and all other forms of marketing are tracked 24/7 for conversion, giving a clear look at what is working – and what isn't.
Integration of TAG led to overwhelming success, as evidenced with Trump Hollywood, a luxury condominium project in Hollywood, Fla., which closed more than $276 million worth of residences in just 16 months under the care of LGD's marketing efforts.
"Clearly, this translates into dollars not wasted and contributes to projects selling ahead of schedule, like we witnessed with Trump Hollywood," said Dugow.
Now, LGD is using TAG to support the marketing of pre-construction luxury real estate, a sector even more sensitive to developer's needs of exhilarating contract conversions.
"We perfected TAG during the crash. Our marketing initiatives had to go further and bring back more results with even tighter budgets. Having weathered that storm, our strategic outreach strategies definitively laid a new foundation for the future of media planning and how we approach marketing for pre-construction real estate developments," adds Dugow.
When it comes to how TAG works, says Dugow, there's no replacing the human element.
"TAG is much more than simply gathering data. LGD's team of experts spend hours monitoring sales calls, documenting and analyzing customer inquiries, and giving critical insight to our clients," concludes Dugow. "The blend of dependable marketing expertise and TAG's real-time reporting tells the entire story; it's become clear and absolute for our clients."
Read more about TAG on LGD's website, http://www.lgdcom.com, or call Interactive Division Manager, Matthew Dugow, at 305.576.9400.
About LGD Communications
LGD Communications is a Miami-based full-service advertising, marketing, and branding agency, with over 20 years of expertise in both print and digital media, offering marketing services across all media platforms. Under the leadership of Len Dugow, LGD Communications provides comprehensive solutions for companies looking to enhance their brand presence through proven custom strategic and creative campaigns.
For more information, contact President & Chief Creative Officer Len Dugow at Len[at]lgdcom.com or (305) 576-9400.