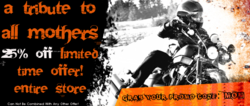 It wasn't your imagination. There really were more motorcycle enthusiasts attending Myrtle Beach Bike Week in 2012.
(PRWEB) May 09, 2013
Bikers ride in days before to Myrtle Beach to celebrate the spring rally and rides on may 10th. Vendors keep on stacking up their merchandise to sell higher priced items to bikers. The cost that vendor has to cover is greater than bikers. As each vendor pokes their prices higher to make some money BikerLeather.com is lowering their prices to give a break for your wallet. Right now BikerLeather.com has special going on for Mother's Day. The special includes $7 flat rate shipping, and 25% off the entire shopping cart, with coupon code MOM.
What can be expected from Myrtle Beach bike week? A lot of riding; the secret to Myrtle Beach bike week success is riding. People from all over the world come to enjoy the Grand Strand, fine restaurants, great entertainment, making new and meeting old friends, and lastly but not last the beach. What is the best way to wake up at Myrtle Beach? To the sound of motorcycle exhausts, rambling on hotel windows. Myrtle Beach has a lot in stock for everyone no matter what the age. From may 10 to may 19 Myrtle Beach is one huge biker party, allowing bikers to have the best vacation at Myrtle Beach.