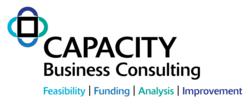 Newburgh, NY (PRWEB) May 10, 2013
When Capacity Business Consulting rebranded earlier this year, they knew how powerful demographics and psychographics are to selling more business. After all, part of what they do for their clients is marketing research and strategy so the investment in advertisements, promotions, and other marketing efforts actually work and their clients make money.
For their own rebrand, Capacity wanted a logo that explained what they do and reflected their core attributes of analytical, confident, detailed, resourceful, organized, and leaders. They also wanted it to "speak to" their target market and dissuade those who are not their target market. Pretty high expectations for a logo.
Eric Egeland, President of Capacity Business Consulting, states: "Our target market is entrepreneurs and business owners who understand the value of doing it right the first time. They know research and planning are the keys to big results, not gut and intuition. And they know hiring experts cost less and gets bigger results, faster. We don't really want to talk to those who aren't our target."
For this important task, Capacity chose Kelley Briggs and DesignWorks NY, LLC. "We knew Kelly was the one. We chose her not only because she is a degreed graphic designer with years of experience, but because she truly "gets it" and knows how to create an image that speaks to your target market," says Eric.
It appears they chose correctly. DesignWorks won the prestigious 2013 Communicator Award of Distinction for the logo they created for Capacity. With thousands of entries received from across the US and around the world, the Communicator Awards is the largest and most competitive awards program honoring the creative excellence for communications professionals. Kelley Briggs, Creative Director of DesignWorks NY, LLC, stated: "Working with Capacity Business Consulting was like working with a member of our own team. Eric was analytical, articulate and decisive, much like the characteristics his clients find in his work. His trust in us made the process easy and fulfilling."
The Communicator Awards are judged and overseen by the International Academy of the Visual Arts (IAVA), a 600+ member organization of leading professionals from various disciplines of the visual arts dedicated to embracing progress and the evolving nature of traditional and interactive media. Current IAVA membership represents a "Who's Who" of acclaimed media, advertising, and marketing firms including: AirType Studio, Condè Nast, Disney, Keller Crescent, Lockheed Martin, Monster.com, MTV, rabble+rouser, Time Inc., Tribal DDB, Yahoo! and many others.
About Capacity Business Consulting
Capacity Business Consulting is a business consulting firm. Their broad array of services includes feasibility studies, funding preparation, issue analysis, improvement strategy, marketing strategy, sales preparation, business brokerage, etc. for small- to medium-sized businesses and startups in any industry.
For more information, visit http://www.CapacityBusinessConsulting.com
https://www.facebook.com/pages/Capacity-Business-Consulting/234236463315914?ref=hl
845.764-9484
info(at)CapacityConsultingInc(dot)com.
About DesignWorks
DesignWorks NY is an award-winning, graphic design and marketing communications firm, with expertise in marketing, brand development and graphic design. The women business certified firm offers a full range of creative services including marketing strategy, brand development, design, copywriting and production coordination for both print and digital media. It is best known for creating memorable, impactful brands and branded-materials that continually and effectively reinforces their clients' message, brand and perceived value. For information, contact Kelley Briggs at 914-260-6981, or visit http://www.designworksny.com.