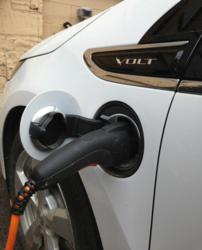 "Innovation is our way of life at Renodis. Providing this benefit is a great way to align our culture with an ongoing commitment to efficiency and eco-friendly practices."
Saint Paul, MN (PRWEB) May 14, 2013
Renodis (http://www.Renodis.com), America's first fully integrated outsourced solution for managing telecommunications and business communications, has enabled its employees to become more efficient and help the environment through the installation of convenient power outlets for charging of electric vehicles.
"Installing power outlets for employees to charge electric vehicles was a very easy decision," says Praba Manivasager, Renodis Chief Operating Officer. "Innovation is our way of life at Renodis. Providing this benefit is a great way to align our culture with an ongoing commitment to efficiency and eco-friendly practices."
Currently one such Renodis employee using a power outlet is able to drive their 60 mile round-trip commute on all electric due to the new power outlets.
Renodis joins the City of St Paul in an initiative to provide convenient charging options for electric vehicle owners. For more information, go to the City of St Paul's Electric Vehicles and Charging Stations webpage at http://www.StPaul.gov/evchargingstations.
*****
Renodis Turnkey Telecom Management™ is America's first fully integrated solution for managing all aspects of your telecommunications. Completely objective and accountable only to you, we reduce your Total Cost of Telecom™; freeing up valuable IT and Executive time, future-proofing your technology, and giving you the peace of mind to focus on your core business. http://www.Renodis.com
###