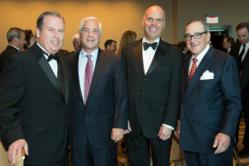 Horsham, PA (PRWEB) May 10, 2013
Toll Brothers, the nation's leading builder of luxury homes, raised close to $500,000 during its 21st annual Gala benefiting the American Cancer Society. This year's event featured a wide assortment of silent auctions for everything from spa and golf outings to luxurious Guest House packages, and much, much more. Auctioneer Bob Toll hosted a live auction featuring fabulous getaways, with a special appearance and auction item from former Governor Ed Rendell.
The Gala was held in Philadelphia at the Hyatt Regency Penn's Landing, and included a sumptuous dinner and dessert buffet. Guests were enticed to dance by local band Deja Groove. And, as featured in previous galas, patrons could purchase key codes to "Toll Treasure Tower" to open the Toll Brothers-built miniature high-rise. Winners took home prizes varying from electronics to legendary Tiffany & Co. woman's jewelry.
Hosted by Toll Brothers Executive Chairman Robert I. Toll and CEO Doug Yearley, and supported by esteemed presenting sponsors Yorktowne Cabinetry; Bisgaier Hoff, McCarter & English; and ReedSmith, this legendary event has raised more than $6 million, with the money going directly to the lifesaving research of the American Cancer Society.
Toll Brothers has set the standard for integrity, value, timeless design, and exceptionally high quality, and is considered one of the smartest and best-managed companies anywhere. The Company was named 2012 Builder of the Year by Professional Builder magazine (http://www.housingzone.com) and is the first builder to win this award twice. Toll Brothers is honored to have won two other coveted awards in the home building industry as well: America's Best Builder and the National Housing Quality Award. The Company was also ranked #1 in 2011 and 2010 in Financial Soundness, Long-Term Investment, and Quality of Products/Services in FORTUNE magazine's annual World's Most Admired Companies survey in the home building category.* Toll Brothers proudly supports the communities in which it builds; among other philanthropic pursuits, the Company sponsors the Toll Brothers - Metropolitan Opera International Radio Network, bringing the Met opera to neighborhoods throughout the world. For more information, visit TollBrothers.com.
Toll Brothers, Inc. is the nation's leading builder of luxury homes. The Company began business in 1967 and became a public company in 1986. Its common stock is listed on the New York Stock Exchange under the symbol "TOL." The Company serves move-up, empty-nester, active-adult, and second-home buyers and operates nationwide.
Toll Brothers builds luxury single-family detached and attached home communities; master planned luxury residential, resort-style golf communities; and urban low-, mid-, and high-rise communities, principally on land it develops and improves. The Company operates its own architectural, engineering, mortgage, title, land development and land sale, golf course development and management, home security, and landscape subsidiaries. The Company also operates its own lumber distribution, and house component assembly and manufacturing operations. The Company acquires and develops commercial properties through Toll Commercial and its affiliate, Toll Brothers Realty Trust, and purchases distressed loan and real estate asset portfolios through its wholly owned subsidiary, Gibraltar Capital and Asset Management.
From the March 21, 2011 and March 16, 2010 issues of FORTUNE magazine.