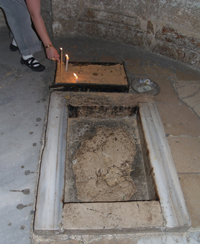 Pilgrimage is about faith and renewal.
(PRWEB) May 10, 2013
Catholic pilgrimage provider Tekton Ministries has announced a new blog site, In Their Footsteps, for people who have made pilgrimages and others who are considering it.
The site, which may be accessed through http://www.tektonministries.org, gives pilgrims an opportunity to share their reflections about their visits, according to pilgrimage coordinator Chris Weldon.
"The blog is open to anyone interested in pilgrimages," Chris said, adding that it offers an opportunity to hear and see firsthand accounts of various pilgrimages from those who have been there.
Tekton Ministries president and CEO Richard Sontag called the new venue an important addition to the company's operations. "We've been in business a long time," he said, "but this is the first time we have had the opportunity to grow from a social media standpoint."
In Their Footsteps will allow pilgrims and others to share comments about their trips, he said. "Pilgrimage is about faith and renewal," he added. "That is what we do best – we give our pilgrims the chance to grow in faith and feel renewed in the spirit. Our new blog is one more place that can happen," he added.
The blog title, In their Footsteps, was suggested by Weldon who observed that people on a pilgrimage were literally walking in the footsteps of Jesus, Mary and Joseph, "plus thousands of saints and holy men and women who lived in these houses and went to these churches."
More information about Tekton Ministries is found at http://www.tektonministries.org.