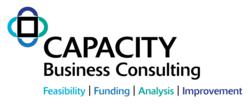 Walden, NY (PRWEB) May 16, 2013
Walden, NY-based dietary supplement company, Breakthrough M2 has announced plans to begin expansion in the Hudson Valley area.
Breakthrough M2 offers customers a weight loss plan that utilizes natural dietary supplements, exercise, and a balanced whole foods diet to achieve permanent weight loss. Breakthrough M2 is based on the scientific research of Dr. A.T.W. Simeons, who found that lasting weight loss can be achieved through the eradication of toxic abnormal fat deposits that develop in the human body. By adhering to Breakthrough M2's unique weight loss system, users have the potential to safely and permanently lose up to one pound of abnormal fat per day.
Breakthrough M2 has enlisted the help of Capacity Business Consulting based in the Hudson Valley area, to grow their business in an effective efficient manner. "You can tell by looking at Nan and Brian that Breakthrough M2 is pretty amazing and people are finding that out!" says Eric Egeland, CEO of Capacity Consulting, Inc. "We are helping them chart out operational and financial plans to help them keep up with their fast growth and additional services."
Breakthrough M2 is hoping to open a permanent business office in the Hudson Valley area in order to begin offering their products to local businesses and individuals within the next year. Breakthrough M2's products and program are currently available through their company website, http://www.breakthroughm2.com.
About Breakthrough M2
At Breakthrough M2, we teach you how to properly combine natural supplements, non-strenuous exercise, protein, vegetables, and fruit to achieve amazing weight loss results in a safe and effective manner. If you follow our plan, you will never have to diet again, and you will NOT gain back your weight! Our metabolic method has been used for over 60 years, and is completely safe for all people including diabetics, vegetarians, and gastric bypass patients. For more information, visit http://www.breakthroughM2.com, call 845-713-4320, or email us at breakthroughm2(at)yahoo(dot)com.
About Capacity Business Consulting
Capacity Business Consulting is a business advisory and management consulting firm. They have a broad array of services designed to help business startup, improve, solve problems, and exit. This includes feasibility studies, funding preparation, analysis, marketing strategy, sales preperation, business brokerage, etc. for small- to medium-sized businesses and startups in any industry. For more information, visit http://www.CapacityBusinessConsulting.com, call 845.888.5486, or e-mail us at info(at)CapacityConsultingInc(dot)com.