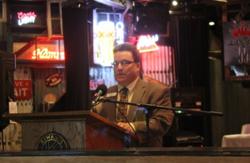 The total wasted advertising dollars annually is over $167,767,000,000.
(PRWEB) May 10, 2013
HALO Branded Solutions' Glendale, CA promotional products Account Executive Stephen Ropfogel presented at the Glendale Chamber of Commerce's monthly Business Builder Lunch on April 24, 2013. The topic of Ropfogel's presentation was the "Top Four Reasons Advertising and Marketing Efforts are Failing Today."
The Glendale Chamber of Commerce, which serves over 850 local businesses and organizations, holds monthly business and social networking events for their members. Ropfogel was the guest speaker at this month's "Lunch and Learn" event, discussing the reasons for the failure of so many marketing and advertising campaigns today.
"The total wasted advertising dollars annually is over $167,767,000,000" said Ropfogel in his presentation, "With that much money, a brand new Cadillac Escalade could be purchased for every man, woman, and child living in Brooklyn, NY."
For more information on this story and promotional products in the Los Angeles area, visit:
http://www.halo.com/promotional-products-los-angeles-california/ropfogel-gives-advertising-marketing-presentation-at-glendale-chamber-of-commerce-lunch.aspx
About HALO Branded Solutions
HALO Branded Solutions, with operational headquarters in Sterling, Illinois, is a leading promotional products distributor in the $18 billion per year promotional products industry. The Company has a growing nationwide sales force, with regional account executives in key cities across the country including the Denver-area, and expects to continue its profitable growth by offering innovative client solutions, priced competitively, and supported by world-class operations and customer service.