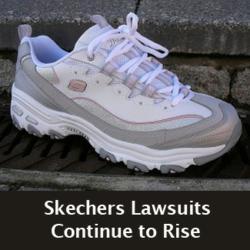 Wright & Schulte LLC, is dedicated to helping those injured by Skechers Shape-Ups. Call 800-399-0795 or visit www.yourlegalhelp.com today for a FREE Skechers Lawsuit consultation!
Columbus, OH (PRWEB) May 22, 2013
The product liability attorneys at Wright & Schulte have filed 11 Skechers shape-ups lawsuits on behalf of consumers throughout the U.S. who have sustained bone fractures allegedly caused by the defective design of Shape-Ups toning shoes. These Skechers cases are all part of MDL 2308. While most of these Skechers Shape-Up lawsuits were filed on March 18, 2013, two were filed on February 28, 2013 (case nos. 3:13-cv-00278-TBR and 3:13-cv-00279-TBR), and one was filed on March 1, 2013 (case no. 3:13-cv-00287-TBR). These Skechers lawsuits will be heard in the U.S. District Court of the Western District of Kentucky, Louisville Division.
Wright & Schulte, LLC specializes in defending the rights of those who have suffered severe injuries after using products with defective or dangerous designs. Our experienced Skechers attorneys have a proven track record of successfully going up against large corporations. We welcome individuals who think that they have been injured due to these toning shoes to speak to our Skechers lawyers by visiting yourlegalhelp.com or by calling 1-800-399-0795.
Skechers Ads Misrepresent Toning Shoes Health Benefits
All of these cases contend that the plaintiffs bought Skechers Shape-Ups after seeing various ads that claimed wearing these toning shoes could provide users with a number of health benefits. Among the health benefits claimed in these ads included statements that Shape-Ups could improve muscle tone and help wearers get in shape without going to the gym.
However, an independent study conducted by the American Council on Exercise (ACE) and first published in June 2010 found that, "there is simply no evidence to support the claims that these shoes will help wearers exercise more intensely, burn more calories or improve muscle strength and tone." [acefitness.org/getfit/studies/toningshoes072010.pdf - June 2010]
Skechers misrepresentation of Shape-Ups health benefits soon caught the attention of the Federal Trade Commission (FTC). In fact, according to a May 2012 article in the Washington Post, Skechers was legally ordered to pay the FTC $40 million for intentionally misleading consumers in its Shape-Ups advertising. As part of this ruling, the court also found that Skechers failed to alert consumers about the possible risks associated with these toning shoes and that Skechers had not performed adequate safety testing on Shape-Ups. [articles.washingtonpost.com/2012-05-16/business/35454807_1_lawsuits-in-multiple-courts-distraction-of-several-years-cost-and-endless-distraction - May 2012]
Skechers Bone Fractures and Lawsuits
The complaints for all of these Skechers Shape-Ups lawsuits allege that the plaintiffs were wearing their toning shoes while performing their daily activities when the rocker bottom of the shoe caused them to fall and break bones in various parts of their bodies.
The plaintiffs in the 11 Skechers Shape-Ups lawsuits filed by Wright & Schulte include an Arizona woman (case no. 3:13-cv-00331-TBR) and a Wisconsin man (case no. 3:13-cv-00349-TBR) who suffered multiple fractures in their right feet; a Tennessee woman (case no. 3:13-cv-00336-TBR) and a Pennsylvania woman (case no. 3:13-cv-00329-TBR) who fractured their right ankles; an Ohio woman who sustained a fracture in her right leg (case no. 3:13-cv-00347-TBR); a Pennsylvania woman who fractured her hip (case no. 3:13-cv-00340-TBR); a Mississippi woman who suffered an elbow fracture (case no. 3:13-cv-00278-TBR); a Texas woman who fractured her left ankle (case no. 3:13-cv-00279-TBR); a Mississippi woman who fractured her left wrist (case no. 3:13-cv-00287-TBR); an Alabama woman who fractured her wrist and vertebrae (case no. 3:13-cv-00337-TBR); and an Ohio man who broke his right arm (case no. 3:13-cv-00345-TBR).
About Wright & Schulte LLC
Wright & Schulte LLC, an experienced personal injury firm, is dedicated to the belief that America's legal system should work for the people. Every day, the attorneys of Wright & Schulte LLC stand up for the rights of people who have been injured or wronged by defective drugs and their side effects, complications from defective medical devices, and unsafe consumer products. We will fight tirelessly to ensure that even the world's most powerful corporations take responsibility for their actions. If you're looking for a law firm that will guarantee the aggressive and personal representation you deserve, please do not hesitate to contact Wright & Schulte LLC today. Free case evaluations are available through yourlegalhelp.com or by calling 1-800-399-0795.
Contact:
Wright & Schulte LLC
812 East National Road
Vandalia, Ohio 45377
1-800-399-0795
http://www.yourlegalhelp.com