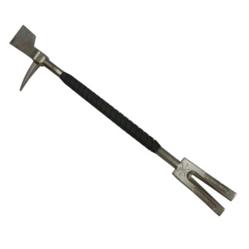 This new Maximus will become a popular forcible entry tool very quickly...
(PRWEB) May 10, 2013
The Maximus Fire Tool is the next generation Halligan forcible entry bar and is ready for its debut into the fire rescue service.
Firefighters are known for their creative approach to the many responsibilities associated with the demands of their job. One notable example of a firefighter's inventive spirit occurred in the 1940s when Chief Hugh Halligan designed the "Halligan Bar", which revolutionized the fire service industry. Though it has been slightly altered over the years, the Halligan bar remains one of the most recognized tools in any firefighter's arsenal.
The Halligan bar is constructed of a strong drop forged forcible entry bar with one forked end and a spike (also known as a "pike") and an Adz on the other end. These features combine to form a truly dynamic, multi-functional tool for forcible entry and can open all kinds of doors by prying, breaking, peeling and countless other applications, even in confined space rescue.
Firefighters face daily challenges that have continued to evolve over the years and so must the technology continue to evolve to meet these challenges. Over the past two decades, the "Pro-Bar" variation of the Halligan bar has become the industry standard. The Pro bar differs slightly from the Halligan bar and offers enhanced capabilities compared to the original version.
Like the classic Halligan, the Maximus is a super strong one-piece drop forged forcible entry bar, made from 4140 chrome vanadium steel and is a completely "tuned" Halligan forcible entry bar. The width of the Adz has been increased to 2-3/4 inches for gapping doors and the "legs" where the fork meets the bar have been squared off to provide an additional striking surface while operating in tight spaces.
The Maximus Adz and the fork are thinner than any forcible entry bar currently on the market and offer pre-cut depth gauges that eliminate guesswork when the tool is in use. The bar features a molded TPR grip to lessen slippage and provide a protective insulation up to 24,000 volts. The Maximus is the standard length of 30 inches and weighs less than 10 pounds, which is nearly two pounds lighter than the Pro-Bar Halligan. The Maximus represents the next generation of forcible entry tool and has been specifically designed to meet the ever changing demands that modern firefighters face. Firefighters won't be disappointed by the Maximus superior performance.
"I can see this new Maximus will become a popular forcible entry tool very quickly because it's got all those firefighter modifications and makes them standard" said Don Colarusso, a firefighter for over 25 years and founder of All Hands Fire Equipment.
See AllHandsFire.com for more information on the Maximus forcible entry tool as well as fire gloves, fire helmets, fire rescue rope, personal escape systems and many other types of firefighter tools and equipment.