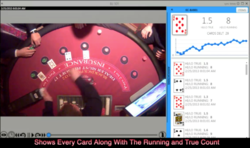 I am sure glad this system wasn't around when I was with the MIT team....
Las Vegas, Nevada (PRWEB) May 13, 2013
This year eConnect, Inc. was voted "Best Game Protection Product" for Casino Enterprise Managements 2013 Table Games Awards. eConnect won the award based upon their powerful new game protection product called Blackjack Countdown. This patent pending product is revolutionary in the way that it proactively looks for card counters and advantage players while they are in the midst of their card counting activity. This award is especially gratifying for eConnect as the votes were received from table game executives from a multitude of casino gaming companies. eConnect has been successful in the gaming sector for a number of years, but this recognition is validation that eConnects newest product addresses the needs of the casino operators.
"We are very excited about our current technology advancements in our product suite" Commented Travis Whidden- eConnects Chief Technology Officer. "The development of this system has been a great experience and the end product is amazing to see."
See live video on Blackjack Countdown
"MIT" Mike Aponte who famously worked with the MIT card counting team and who was depicted in 21 The Movie commented: "I am sure glad this system wasn't around when I was with the MIT Team."
About eConnect:
eConnect is a software company in the security industry, providing financial transactional analysis with visual verification. This is accomplished by synchronizing transactional data from point-of-sale (POS), casino systems and games to digital video surveillance, producing the best fraud deterrence tool in the industry. The software tool also increases the effectiveness of employee productivity, allowing managers to easily identify common employee errors. The software provides a dramatic return on investment usually within 3 to 6 months.
About Card Counting:
Card counting is a casino card game strategy used primarily in the blackjack family of casino games to determine whether the next hand is likely to give a probable advantage to the player or to the dealer. Card counters are a class of advantage players, who attempt to decrease the inherent casino house edge by keeping a running tally of all high and low valued cards seen by the player. Card counting allows players to bet more with less risk when the count gives an advantage as well as minimize losses during an unfavorable count. Card counting also provides the ability to alter playing decisions based on the composition of remaining cards.