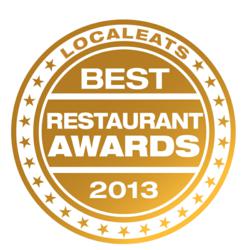 "The caliber of restaurants we feature shows that the Emerald Coast has much more to offer than typical surfside vendors and beach bars," says LocalEats editorial director Pat Embry.
(PRWEB) May 09, 2013
LocalEats®, a critically acclaimed iPhone and iPad app, online dining guide LocalEats.com, and the publisher of the Where the Locals Eat series of dining guides, has released its 2013 list of the best restaurants spanning the Emerald Coast of Florida. For years, LocalEats has focused primarily on major metropolitan areas and the most populous cities. But the dining guide is now turning its attention to popular smaller markets boasting a higher percentage of excellent restaurants per capita: coastal towns, mountain getaways and vacation destinations of all sorts. In this spirit, they have canvassed Florida's Panhandle coast, spotlighting the best locally owned restaurants from Pensacola to Panama City Beach with stops in Destin, Apalachicola, Santa Rosa Beach along the way. From beachfront oyster bars and seafood shacks to steakhouses and upscale Gulf Coast dining, LocalEats has chosen restaurants beloved by tourists and locals alike. Whether upscale or down-home, these restaurants compose the distinct dining fabric of the Emerald Coast.
All selections are made by the LocalEats editorial staff, who research local media and relevant dining blogs, monitor social media, survey food-savvy locals and travelers, and take into account their personal dining experiences. There are no national chains listed, and restaurants cannot pay for inclusion. Unlike many restaurant apps and websites that rely on user comments and contributions, LocalEats is one of the only curated restaurants guides.
"The caliber of restaurants we feature shows that the Emerald Coast has much more to offer than typical surfside vendors and beach bars," says LocalEats editorial director Pat Embry. "We've attempted to capture the diversity of this ever-evolving dining scene, and we're proud to present our picks for the best independently owned restaurants from Pensacola to Panama City."
A sample of Emerald Coast, Florida winners:
Jackson's Steakhouse – Best Steakhouse, Pensacola, FL
"Named for our nation's seventh president — the building overlooks Ferdinand Plaza, where the Spanish ceded Florida to Old Hickory in 1821— Jackson's Steakhouse is known for its classy digs, aged steaks and Gulf seafood preparations from co-owner and executive chef Irv Miller."
Bud & Alley's, Seaside, FL
"Tucked into the dunes and looking out onto the Gulf, longtime Seaside seafood standout Bud & Alley's features entrees such as crab cakes, grilled black grouper, lobster Tagliatelle, and the whole fish of the day. Not to be overlooked are the always-hopping pizza bar and taco bar."
Boss, Apalachicola, FL
"The Apalachicola River Inn's Boss Oyster ranks as one of the top oyster bars in what is one of the nation's most renowned areas for producing the tasty bivalves."
Picolo's & The Red Bar, Santa Rosa Beach, FL
"Locals and tourists consistently pack The Red Bar and its restaurant Picolo's from affable Belgian-born chef-owner Olivier "Oli" Petit's Grayton. This funky and fabulous restaurant/bar is known for serving up some of the best, impossibly dense crab cakes in these or any parts — available Friday and Saturday nights only — as well as local fish specials."
For a complete list of winners Emerald Coast restaurants:
http://www.localeats.com/Emerald-Coast-Florida-restaurants
Download a PDF version of this press release: LocalEats Emerald Coast 2013 Winners.pdf
BEST EMERALD COAST, FLORIDA RESTAURANTS BY TOWN (includes category winners):
ALYS BEACH
Caliza
George's at Alys Beach
APALACHICOLA
Boss
Caroline's River Dining
Tamara's Cafe
Up The Creek Raw Bar
CRAWFORDVILLE
Spring Creek Restaurant
DESTIN
Aegean
AJ's Seafood & Oyster Bar
The Back Porch
Beach Walk Cafe (at Henderson Park Inn)
Bistro Bijoux
Buster's Bar & Grill
Cabana Cafe
Camille's at Crystal Beach
The Crab Trap (also, Pensacola)
Cuvee Bistro
Dewey Destin's Seafood Restaurant & Dewey Destin's Harborside
Donut Hole
Fisherman's Wharf Seafood House
Harbor Docks
Harry T's Lighthouse
Lin's Asian Cuisine
Louisana Lagniappe
Marina Café
Marlin Grill
McGuire's Irish Pub
Ocean Club
Pompano Joe's
Rick's Crab Trap
Seagar's
Vintij Wine Boutique & Bistro
FORT WALTON BEACH
Caffe Italia
The Crab Trap
Pandora's Steak House
Staff's
FREEPORT
Nick's Seafood
GULF BREEZE
Aegean Breeze
NAVARRE
Stinky's Fish Camp
NICEVILLE
Ed's Hometown Seafood and Steaks & Sports Bar
PANAMA CITY
Hunt's Oyster Bar – Best Seafood
PANAMA CITY BEACH
Andy's Flour Power Cafe & Bakery
Angelo's Steak Pit
The Back Porch
Boatyard
Boon Docks
Capt. Anderson's
David's New Orleans Style Sno-Balls
Dee's Hang-Out – Best Oysters
Dusty's Oyster Bar & Eatery
Firefly – Best Contemporary
FishaleTaphouse & Grill
Flamingo Joe's Grill & Seafood – Best Burgers
Hook'd Pier
Jeannie's One Stop Diner – Best Breakfast
Liza's Kitchen
Mike's Cafe and Oyster Bar
Oishi – Best Thai
Pineapple Willy's
Reggae J's Island Grill
Saltwater Grill
Schooners
Thomas Donut & Snack Shop
Wicked Wheel Bar and Grill
PENSACOLA
Atlas Oyster House
Blue Dot Barbecue
Chet's Seafood
The Coffee Cup – Best Breakfast
The Crab Trap (also, Destin)
Dharma Blue
The Fish House
The Global Grill
Jackson's Steakhouse – Best Steakhouse
Jerry's Drive In
Joe Patti's Seafood
McGuire's Irish Pub
O'Zone Pizza Pub – Best Pizza
PENSACOLA BEACH
Peg Leg Pete's – Best Seafood
PORT SAINT JOE
Indian Pass Raw Bar
ROSEMARY BEACH
Cowgirl Kitchen
Edward's Fine Food & Wine
La Crema Tapas and Chocolate
Onano Neighborhood Café
Restaurant Paradis
Summer Kitchen Café
SANTA ROSA BEACH
723 Whiskey Bravo
Angelina's Pizzeria & Pasta
Barefoot B-B-Q
Basmati's Asian Cuisine
Borago
Bud & Alley's
Buddha Lounge
Café Tango
Café Thirty-A
Chop Stix
Crush Wine Bar
Donut Hole
Fire
Fish Out of Water
Goatfeathers
Great Southern Café
Hurricane Oyster Bar and Grill
Local Catch Bar & Grill
Marie's Bistro
The Meltdown on 30A
Modica Market
Old Florida Fish House
Pizza by the Sea
Picolo's & The Red Bar
Sally's by The Sea Store
Seagrove Village MarketCafé
Shorty's Surfside and Topside
Stinky's Fish Camp
V Seagrove
VKI Japanese Steakhouse & Sushi Bar
Vue on 30A
Wild Bill's Beach Dogs
SEACREST
La Cocina Mexican Grill and Bar
SHALIMAR
Aegean
ST. GEORGE ISLAND
Eddy Teach's Raw Bar
About LocalEats
Owned and operated by Magellan Press, Inc., LocalEats is a company dedicated to providing the best curated restaurant guide in America. Founded in 1991, the company began as an independent book publishing company, which created the popular Where the Locals Eat dining guide. In 2008, the guide went digital and has become the top paid dining app in the iTunes App Store. Today the LocalEats® iPhone and iPad apps and website are leading sources for the best regional dining information nationwide. More information is available at LocalEats.com.
The LocalEats app is free on the iPad and costs 99 cents for the iPhone. Listings are updated regularly without additional charge to the user. LocalEats.com features the same restaurant content as the app, as well as links to the nation's best dining blogs, local and national dining news, and the ability to find restaurants near popular U.S. landmarks. The app has received national recognition by The New York Times, Travel + Leisure, USA Today, Budget Travel, Business Week, Mashable, Peter Greenberg, Kim Komando Show, and CNET.
###