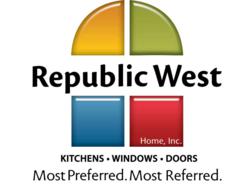 Phoenix, AZ (PRWEB) May 10, 2013
Phoenix homeowners looking for unique Mother's Day gifts can turn to Republic West Home this May. Republic West is offering an economical way to keep homes efficient and looking great with upgrades to maple or cherry wood for kitchen cabinets and upgrades to triple pane windows at no additional cost.
Both cherry and maple wood are extremely dense and close-grained, so they won't scratch or dent as easily as other woods. They both look beautiful, and they increase a home's value. Maple will stay in prime condition for many years with very little maintenance. Cherry is another gorgeous and resilient wood, and it actually becomes more beautiful and unique as it ages.
Triple pane windows will conserve energy by insulating a home much more efficiently than other glass. Triple pane glass reduces CO2 emissions, and it also blocks 99% of harmful UV rays, an important advantage with the Arizona sun, especially during the summer months. Triple pane glass also reduces noise, and of course, it's more durable and very easy to maintain. Republic West Home's EPA certified window installation experts will install windows quickly and efficiently, assuring a smooth transition. Triple pane glass will make a home more comfortable, brighter, and safer year-round.
Republic West Home is dedicated to making homes look and feel their best. Upgrading to higher quality wood or thicker glass will improve a home both visually and from a structural standpoint. These upgrade options will pay for themselves by increasing a home's value, and they will make a house feel new and improved. Republic West Home is offering these upgrades until May 31, 2013.
About Republic West Home:
Republic West Home is a company that stands for quality, honesty, and the best value. Our vision, in an industry often lacking ethics and reliability, is to deliver the best home improvement experience possible—before, during, and after your home remodeling project.
To achieve this, an extensive team of professionals was put in place: employees driven to make the home improvement experience a great one for you, our customers. The formula works and the pleasant experiences we create for our customers have paid off. In an industry where repeat business averages less than 5%, Republic West Home and our 15,000+ clients generate an amazing 50% of our business from previous customers and referrals.
For additional information, please call 480-423-9300 or visit http://www.republicwesthome.com
Media Contact:
Jason W. Jantzen
Phoenix Marketing Associates
http://www.PhoenixMarketingAssociates.com
602-282-0202
-END-