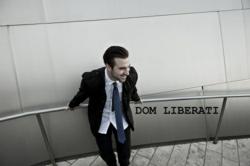 This year, I am really looking forward to playing at the fair and plan to stay out of the water until after my performances to avoid any surfing accidents
Los Angeles, CA (PRWEB) May 10, 2013
Alternative rock artist Dom Liberati continues to sweep the state of California - from San Diego to the Bay area - with a full schedule of concert appearances on his West Coast mini-tour. Liberati just concluded his highly anticipated performances at Molly Malone's in Los Angeles and Letstat's in San Diego. His bass-driven anthem rock is creating a cult-like following along the coast. Back by popular demand, the tour includes three performances at the San Diego County Fair.
Liberati's upcoming concert appearances include:
June 8th
The Surf Spot, Pacifica, CA 2:00 PM
Full band | All ages
(This will also be streamed live online from the venue)
June 14th
San Diego County Fair
Plaza Stage 6:30PM (prior to Switchfoot)
Full band | ALL AGES
June 26th
San Diego County Fair
Plaza Stage 6PM (prior to Bridget Mendler)
Acoustic | All Ages
June 30th
San Diego County Fair
O' Brien Stage 8:30PM
Acoustic | All Ages
"Last year at the San Diego County Fair, I was scheduled to play right before Switchfoot and Demi Lovato, but I broke my nose in four different places in an unfortunate surfing accident a few days before. This year, I am really looking forward to playing at the fair and plan to stay out of the water until after my performances," said Liberati.
When Liberati is not performing, travelling up and down the state, or surfing, he is hard at work on his latest single "Walk," which he anticipates releasing sometime in June.
Liberati fans can view a complete tour schedule with ticketing information and also sign up for the mailing list at his Facebook page.
About Dom Liberati
Dom Liberati delivers bass driven anthem rock with an earnest, aggressive and fresh approach. His infectious, stadium-sized hooks with pop sensibility have been compared to the likes of Jimmy Eat World, Foo Fighters and Kings of Leon. In 2011, Liberati's first official music video was released and "We Own the Night" went on to win two Los Angeles Movie Awards. Since then, he has gone on tour to promote his new album, The Good Hurt. He has collaborated with Grammy-winning songwriter Sunny Hilden (Sting, Ray Charles, David Archuleta), YouTube pop sensation Karmin, and the Tiesto-favored DJ Fei-Fei. Liberati currently lives in Los Angeles and can be found frequently performing with his self-assembled custom basses at iconic music venues such as The Hotel Café, The House of Blues, The Troubadour, and the Roxy.