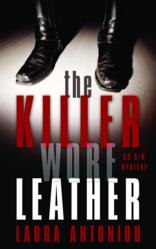 "A lovely whodunit and a much more modern game of Clue."

— The Advocate
(PRWEB) May 10, 2013
On May 20th, editor and talk show host Judith Regan will interview Laura Antoniou about The Killer Wore Leather, and they will discuss the interest in explicit fiction among women, thought to be on the rise. Laura and Judith have been on the cutting edge of writing, always a step ahead of the trends, and are perfectly poised to discuss the current climate of publishing and writing from an insider perspective. Join these two legendary women for a no-holds-barred conversation and an evening of intrigue and insight.
The Advocate further examines this trend in an interview with Laura. Ms. Antoniou theorizes that "the advent of e-books and the ease and privacy in buying them has liberated hundreds of thousands of erotica readers who can now have entire libraries on one small device they can read in public." They also discuss the historical reaction of the media to kink, and whether alternative relationship styles have universal and timeless appeal.
As for Laura's new book, Curve Magazine predicts that both longtime lovers of the genre and those new to mystery will enjoy Antoniou's latest. Sassafrass Lowrey says that "The Killer Wore Leather is one of the first mystery novels I've ever enjoyed; it was hilarious, and witty."
Join Laura and Judith at Barnes and Noble to learn more.
50 Shades of Fascinating — Laura Antoniou in Conversation with Judith Regan
Monday, May 20th, 7pm
Barnes & Noble
2289 Broadway, New York, NY