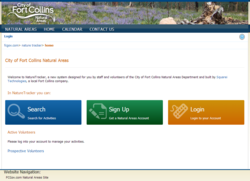 Fort Collins, CO (PRWEB) May 10, 2013
Before NatureTracker, the Natural Areas Department was using several different antiquated systems; this was not only inefficient for staff but a frustrating experience for the public. The primary goal of the new web application was to give the public an easy way to find and sign up for activities as well as provide Natural Areas staff a means to effectively manage the 500+ volunteers that help with the activities annually.
"NatureTracker combines four separate systems that we used previously to manage volunteers and registrations. It is going to save us hundreds of hours and it provides a much higher level of customer service for the public and our volunteers. We are very excited to introduce this new system to our staff, volunteers and the public." said Zoe Whyman, Community Relations Manager, City of Fort Collins Natural Areas Department (http://www.fcgov.com/naturalareas/).
Nature Tracker offers the following functionality:

Find Activities
Activity Registration
Activity Evaluations and Feedback
Activity Attendance Reporting
Volunteer Applications
Volunteer Scheduling
Volunteer Hour Management and Reporting
Export of reports to Excel & PDF
Mobile Specific application with limited functionality
Mobile Enhanced Full application
"Squarei was a pleasure to work with! They learned how our organization operates, learned our lingo and created a web application that is tailored specifically for us. They even thought of better ways to do things and found ways to add features that we hadn't even thought of in the beginning," said Whyman.
NatureTracker took our team 6.5 months to develop using the latest features of Microsoft ASP.Net MVC framework and hosted in the Azure cloud platform providing a reliable and scalable solution. This will allow the application to grow with the Natural Areas Department into the future.
Kent Bejcek, who leads Squarei Technologies, said: "In the early planning stages of this project it became apparent that there were no off the shelf solutions to meet the needs of the Natural Areas Department. Squarei was able to deliver a custom unique solution on time and within budget because of our commitment to thorough analysis and quality of work".
About Squarei
Squarei (http://www.squarei.com) was founded in 1996. They provide cost effective, user friendly technology solutions. Their capabilities range from design solutions to interactive Internet applications to database driven business process and information tracking systems. Their areas of expertise include mobile, web, database, content management, project management solutions, business process automation, database driven applications, customized e-mail generation, and customer service tracking.