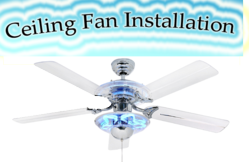 Los Angeles, CA (PRWEB) May 09, 2013
Serving local counties within the Los Angeles area, OCA Electrical, a full service electrical company, recently announced that it is now offering the installation of ceiling fans as one of its primary services.
Striving to become a valuable member of the community for most area residents and businesses, OCA Electrical is constantly searching for new ways to provide service that matters to those who need it. Understanding the high cost of energy consumption within the residential or commercial environment, OCA Electrical is now offering ceiling fan installation as a means to ameliorate the high cost of cooling the interior environment during the hotter months of the year.
The owners of OCA Electrical encourage residents and business owners to consider cooling the indoor environment through the use of a ceiling fan. They believe the following to be true, "Lower energy bills are possible through careful planning and the installation of ceiling fans in critical areas of the building. Ceiling fans can enhance the use of air conditioning systems by circulating the air in order to create a cooler environment throughout the home or office."
Any interested party can arrange an appointment for a ceiling fan installation using the easy, online application or by calling to speak with a representative of the company. The staff at OCA Electrical is dedicated to their craft, conducting themselves professionally at all times.
Employing a dedicated group of electricians, OCA Electrical Company strives to be a contributing member of its community by providing exemplary service that is affordable for all clientele. No electrical job is considered too easy or difficult for the company's experienced electricians to handle. Licensed and bonded, OCA Electrical provides quality services to domestic, commercial, and industrial sectors of cities within the Los Angeles counties.
OCA Electrical
7462 N. Figueroa St. #102
Los Angeles, CA 90041-2502
info(at)ocaelectrical(dot)com
323.259.0299 (phone)
888.357.7595 (toll free)
http://ocaelectrical.com/
###