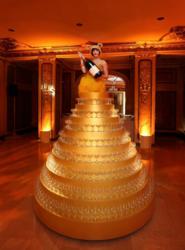 "It's always exciting to work with the team at Samantha Sackler Productions and see how they use our selection of rentals to really transform a space," says Beth Farley, event consultant from Classic's New York location.
New York, New York (PRWEB) May 10, 2013
Baz Luhrmann's new film may have been shot in 3D technology, but guests at The Great Gatsby premiere after-party had their minds on the distant past, thanks to designer8* and longtime partner Classic Party Rentals. Samantha Sackler Productions transformed The Plaza Hotel's Grand Ballroom and Terrace Room for the May 1st premiere after-party into Jay Gatsby's mansion, allowing guests to experience the era of opulence and grandeur. What unfolded was a party that might have rivaled one of Jay Gatsby's. The evening showcased costumed performers, an eight-piece band, and Art Deco-inspired furniture custom designed and produced by designer8*. Classic Party Rentals, the industry leader in bringing grand event visions to life, added the elegant finishing touches.
Samantha Sackler Productions captured the elaborate atmosphere of a Gatsby party by transforming the hotel's ballroom into Gatsby's mansion and entrance. Guests walked down a topiary-lined pathway; the sounds of gravel and the chirping of birds recreated what a visitor might hear on the grand approach to Gatsby's home. Hundreds of butterflies hung from the ceiling as Roaring Twenties music blasted, bringing the Gatsby party experience to life. At the stroke of 11 p.m., the space altered into a dark and sultry speakeasy as scenic elements magically appeared. A live singer and 15 performers in costumes emerged from the deep red lighting for performances.
The Gatsby-inspired line of Art Deco furniture, which features champagne-colored suede and black piping, was designed and made for the event. Classic Party Rentals completed the evening's 1920s illusion with champagne linens as well as coupe glasses., Samantha Sackler Productions assembled the champagne coupes on a six-foot custom built tower positioned at the grand entrance. Classic also provided high boys and chiavari bar stools.
"We were proud to have the honor of designing a unique line of furniture for The Great Gatsby movie premiere," says Samantha Sackler, owner of designer8* Event Furniture Rentals. "We took inspiration for this collection from the characteristic opulence of Jay Gatsby's parties."
The Gatsby line is now available from designer8* Event Furniture Rental. The collection includes a sofa, chair and a glass coffee table with a gold metal base.
"It's always exciting to work with the team at Samantha Sackler Productions and see how they use our selection of rentals to really transform a space," says Beth Farley, event consultant from Classic's New York location. "The Great Gatsby premiere showed off how 'classic' Classic Party Rentals can be."
About Classic Party Rentals
Classic Party Rentals is the nation's leading full service event rental company. Classic services most major markets including Los Angeles, San Francisco, Chicago, Dallas, Phoenix, New York, and Pompano Beach. Its high-profile event roster includes more than 180,000 major sporting events, brand promotion tours, Hollywood awards shows, movie premieres, celebrity weddings, charity events and private social events annually. Locally, each Classic Party Rentals location is recognized as an integral part of successful holiday celebrations at home and at work, backyard weddings and birthday parties, school and church functions, local food and wine festivals, and many community service benefits. Classic Party Rentals is also a leading nationwide provider of tents, clear span structures, power, heating, air conditioning and sub-flooring. Ultimately, there is no need to lose sleep over the details. If you can dream it, Classic Party Rentals can deliver it. We do business under a number of different names, and customers are never disappointed by our Blue Diamond service or the strength of our partners will bring to events. For more information, please visit http://www.ClassicPartyRentals.com. "Your Events Are As Good as The Company You Keep."
About Samantha Sackler Productions
Samantha Sackler Productions is a full-service, fully integrated marketing and event production company that has seen over 1,000 events through from conception to execution. Ranging from movie premieres and product launches to corporate events and weddings, events by Samantha Sackler are consistently impeccable and always unforgettable. For more information on Samantha Sackler Productions, visit http://www.samanthasackler.com
About designer8* Event Furniture Rental
designer8* Event Furniture Rental has been providing high-quality, functional furniture to the event industry since 2006. With an extensive inventory of furniture and the ability to create custom pieces, designer8* has just what you need to make any occasion come to life. For more information on designer8* Event Furniture Rental, visit http://www.designer8furniturerental.com