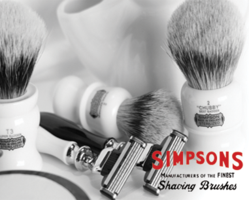 Quintessential English shaving at your service.
(PRWEB) May 16, 2013
In a effort to expand the men's shaving product range and increase the grooming experience Kaliandee has decided to add two well known shaving brush brands.
With over 150 years of combined experience, Progress Vulfix and Simpsons represent the best of traditional manufacturing from the British Isles. Progress Vulfix offer excellent entry-level and mid-range options while Simpsons are famed for their high-end brushes; the two brands together offer items for every wet-shaver, and both are now available from Kaliandee.
According to John Bradney of Kaliandee a good quality shaving brush is essential for creating a rich lather. The brush is the tool used to whip up lather from a soap or cream, and apply it to your face- a process that should also gently exfoliate the skin and help lift your facial hair away from the skin to better expose them to the razor. Your shaving brush may have more contact with your skin than your razor, and the stiffness and moisture holding properties of the brush will be as important as your technique in lathering for a good shave.
Simpsons make many notable brushes, such as the tiny but effective "Wee Scot", the "Major" travel brush that screws into a travel tube, but perhaps most notably the "Chubby" style in best badger, which is consistently reviewed as one of the best high-end shaving brushes available. Simpsons use carefully sorted and sterilized badger hair in Super, Best and Pure grades, all of which have excellent water retention and lathering qualities for use with both soaps and creams.
Simpsons were founded by Alexander Simpson in 1919, with initial production taking place out of a factory in the East End of London. With a rapidly growing reputation and expanding business, the factory relocated to Clapham in South-West London until its destruction during the Blitz in 1941. A second relocation moved Simpsons to the West Country until their acquisition by Progress Vulfix in 2008. Simpson's reputation has always been for high-end and high-quality brushes, a reputation that Progress Vulfix has maintained.
Progress Vulfix are a younger though still well-established company. Founded over 60 years ago in Manchester and now based on the Isle of Man (a British Crown Dependency located in the Irish Sea), they still use traditional brush making methods. Their focus is on midrange to high-quality brushes, and they are an excellent choice for beginners and enthusiasts alike. Their pure badger brushes are an excellent introduction to wet-shaving, and they produce brushes from non-traditional materials such as their Nylon shaving brush, ideal for vegetarians and also suitable for travel as it dries quickly. They also make a very affordable boar hair brushes, which will produce lather from the hardest of soaps and is ideal for the man who prefers a "scrubbier", more exfoliating brush.
About Kaliandee:
Kaliandee is a fast growing online destination for affordable everyday luxury, supplying skincare, shaving, fragrances, gifts and leather goods for the discriminating individual. We carry a range of products appealing to the gentleman seeking an unbeatable shaving and grooming experience. We offer products for every pocket and taste and continuously add new ones to our already rich portfolio. To purchase Vulfix and Simpsons brushes please visit us on kaliandee.com and kaliandee.ca.
For more information on getting started with wet-shaving, see Kaliandee's advice page.