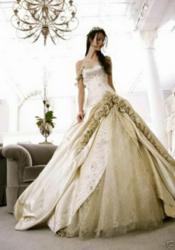 Discount Bridal Dresses for May at Thdresses.com
(PRWEB) May 10, 2013
Today, Thdress.com, the global leader in wedding dresses and other special-occasion dresses, announces great discounts on all its bridal dresses, up to 50% off.
A few days ago, Thdress.com published its new styles of bridal dresses. Today, the company offers a great discount on these new dresses to show appreciation to all customers.
These bridal dresses vary in colors and silhouettes, and have same characteristics: fresh design, cool cut, elegant-looking, and individuality. Every woman hopes to be a Hollywood star or a royal princess at a formal event like a wedding, charity dinner or award banquet. The dresses from Thdress.com are especially made to flatter various body types.
Gloria, a girl from Australia says, "My dress was my first purchase from this website, but it certainly will not be my last! My dress arrived exactly like the picture and fitted perfectly and it was custom sized. The material used was beautiful, the lining is impressive and it was so well made. I am extremely happy, and would recommend purchasing from your website to anyone, in fact I already have!"
In addition, Thdress.com is also offering discounts on other product lines, including latest simple wedding dresses, stylish formal dresses, a line wedding dress, cocktail dresses, and so on. The company provides risk-free return policy for customers, so that they can shop with confidence.
About Thdress.com
Established in 2009, Thdress is a manufacturer specialized in the development and production of women's clothing. All of our products comply with international quality standards and are greatly appreciated in a variety of different markets throughout the world.
View more information, please visit http://www.thdress.com.