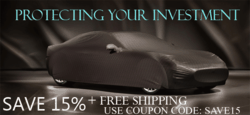 The Ultimate Distributer of Auto Covers, Floor Mats and Car Seat Covers
Los Angeles, CA (PRWEB) May 14, 2013
"It's astounding the number of car covers sold on the internet," said Avner Ohana, CEO of The Car Cover. "But we offer ten fabric varieties, twenty varieties of fitments and thirty years of experience." The Car Cover website offers the finest covers for all makes and models of vehicles.
Each car cover is produced under a carefully monitored system that tests for water resistance and durability. Known for their Ultimate Diamond Car Cover the company offers a warranty on each car cover sold. Every kind of cover imaginable is available for an automobile on the company's website. Covers are available for cars, trucks, SUVs, vans, seats, wheels and steering wheels. Floor mats are available in a number of sizes, colors and patterns as well. New products on the site include the Professional Car Care Cleaning and Detailing Set, Disposable Car Covers, Zebra Print Car Seat Covers, and Nissan Versa Hub Caps. "Our newest products are the Car Seat Covers 17 Piece Set, The Amazing Roll Up Car Cover and our various Waterproof Car Covers," said Mr Ohana.
The oldest and largest privately-held specialty car cover and automotive accessories retailer in the United States, The Car Cover has always been dedicated to customer service and innovative custom-fitted products. Co-founder and CTO Akiva Nourollah explains "We've been able to accomplish a product line with the finest fabrics and styles because we've built excellent relationships with the best manufacturers from around the globe." With the attention on quality The Car Cover team has made it a point to only select the top one percent of accessories available in the marketplace to offer to their clients online. "Our designer car covers are hand-crafted and produced daily. The demand for our products is that great. And because it is, we can easily fulfill orders the same day they're placed. Our same day delivery is a fantastic perk," said Mr Nourollah.
For more information visit http://www.thecarcover.com/.