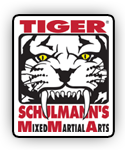 Elmwood Park, NJ (PRWEB) May 13, 2013
Tiger Schulmann's specializes in martial arts classes for children and adults, with emphasis on learning the most modern and effective self-defense techniques. There are three primary types of training offered: Authentic kickboxing for adults, mixed martial arts for adults, and martial arts for children. Additional benefits to children include overcoming problems associated with ADHD and bullying situations. Kickboxing classes are known for providing one of the highest calorie-burning workouts. Tiger Schulmann's differentiates itself in that it provides authentic kickboxing, where actual professional techniques are learned and perfected rather than a standard cardio workout which doesn't teach real kickboxing skills.
The East Brunswick school is owned and operated by head instructor, Sensei Andrew Katz. In 1979, Sensei Katz began training in martial arts. In 1993, he began training at Tiger Schulmann's. As an owner and head instructor, he is required to continue training directly under Master Tiger Schulmann every week at the Tiger Schulmann's headquarters in Elmwood Park, New Jersey.
According to Alon Feder, Director of Marketing, "All classes are safe, and focused on maximizing physical and mental health, coupled with the added benefit of learning real-world and current self-defense techniques. Every Tiger Schulmann's instructor has at least 10 years of intense martial arts training and is deeply involved in making certain every student makes continued progress and gets the maximum benefit from their training."
Tiger Schulmann's emphasizes authentic kickboxing as the most effective way to drop the extra pounds, get into shape and develop a lifelong, instinctual skill of being able to defend one's self should the need ever arise at any point in the future.
The new school can be found at:
510 Route 18 North
East Brunswick, NJ 08816
((732) 867-0766
For more details, contact:
Alon Feder - Director of Marketing
Tiger Schulmann's Mixed Martial Arts
485 Boulevard | Elmwood Park, NJ 07407
(201) 797-2777 x 624
http://www.tsk.com