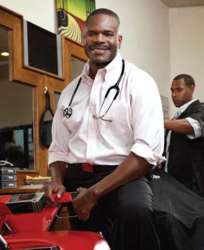 We have found that some men have never been to the doctor in their adults lives.
Los Angeles, CA (PRWEB) May 10, 2013
In spite of significant advances in medicine, African Americans overall experience higher rates of many chronic, and often life-threatening diseases. The UCLA Department of Urology has invited four thought leaders, including Dr. Bill J. Releford, DPM, to speak at a symposium on innovative barbershop-based community outreach programs that seek to reduce health disparities among African American men. The free symposium will be held on May 14 from 8 a.m. until noon at the Tamkin Auditorium, Ronald Reagan UCLA Medical Center at 727 Westwood Plaza in Los Angeles.
"Given the health disparities African Americans face, it's clear that new approaches are needed that take education and screenings from a traditional office setting to the street level – specifically, to black owned barbershops around the nation," says Dr. Releford. "Along with other innovators, I've developed a program that does just that. Through my Black Barbershop Health Outreach Program, we've screened over 30,000 men for diabetes and hypertension in more than 650 black-owned barbershops in over 42 cities."
Other leaders in barbershop-based health initiatives joining Dr. Releford at the symposium include Stanley Frencher, MD, MPH; Anita Linton, MA; and Brian Rivers, PhD, MPH. The four will share lessons learned and discuss the future of community-based outreach as an effective means to reduce health disparities.
To register for the free symposium, visit: https://uurc.healthsciences.ucla.edu/pages/symposium-afam
About Dr. Bill J. Releford, D.P.M.
Dr. Bill J. Releford, D.P.M., a graduate of the Temple School of Podiatric Medicine in Philadelphia, began his practice in 1990 and established the Diabetic Foot Institute, a facility dedicated exclusively to the reduction of diabetes-related amputations in high-risk populations. Dr. Releford is recognized both domestically and internationally as a leader in the field of diabetic limb preservation and wound care, and recently received prestigious awards from the Association of Black Cardiologists and the Regional Black Chamber of Commerce for his contributions to public health.
Dr. Releford is an assistant professor at Charles R. Drew University and lectures worldwide about the latest techniques in limb salvage and community-based outreach. He authored the book "Five Colors A Day to Better Health," and has been featured on "NBC Nightly News" with Brian Williams, ABC's "The View," and in The Washington Post, Newsweek, and The Los Angeles Times.